This week we have been focusing on the number 5. First, we watched the Numberblocks video. Then we found 5 objects to put on our number focus table.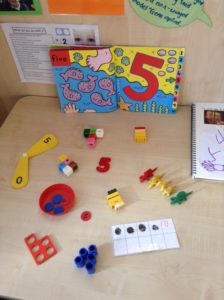 We then looked at building models using 5 bricks. We found that even if the model is a different shape or size, it's still 5!
Next week, we'll be looking at number stories using pictures.
For example, 3 sheep are on the hill and 2 sheep are in front of the barn so 5 sheep altogether. I can see one more sheep next to the rocks. Ask your child how many there are now.