Today, we made fresh pasta!
This week in maths, we've been looking at how to find half of an object or a group of objects. We've been looking at pasta recipes and halving the ingredients. Once we had halved the recipe we were able to make our own pasta!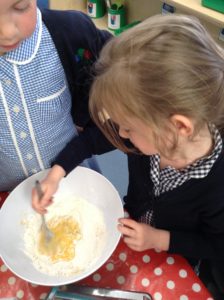 We used half the eggs and measured half of the flour. Some children were able to work out that if half of two is one then half of 200 is 100! After, we mixed eggs and flour in a bowl. Next, we used our muscles to knead the dough – a fantastic way to build the muscles needed to write.
After the dough had been in the fridge over lunchtime, we used the pasta machine to roll out the dough – another great way to build the muscles needed to write.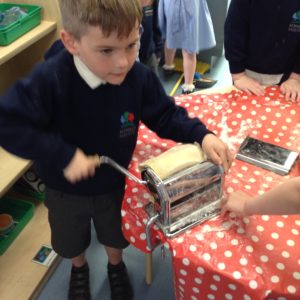 Every time the dough came out of the machine we had to fold it in half.
"Two groups that are the same amount!"
We talked about one more and one less when moving up and down the settings on the pasta machine.
The pasta got longer and longer as we put it through the pasta machine – we needed lots of helpers! Everyone worked very well as a team.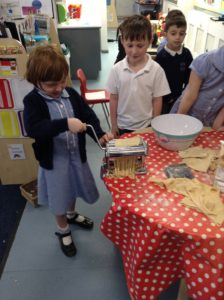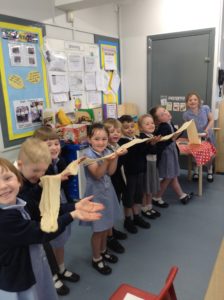 Later, we cooked the pasta with some tomatoes and tasted it.