We have had a busy time in F2 so far…
Last week we introduced the children to 'The Christmas Story'. Before reading the story we looked at the characters and the children were able to name most of them. The children then listened very carefully to the story about the very first Christmas.
It's Baby Jesus.
Mary – Baby Jesus' mummy.
The 3 wise men, they gave presents to Jesus.
Joseph and the shepherds.
They are in a stable.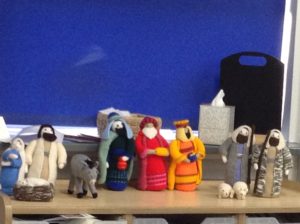 On Thursday, it was our Christmas dinner day. We all made a Christmas hat to wear into the hall.
So far this week, we have watched a Christmas pantomime. This was lots of fun but had an important message – how to keep safe on the road. Can your child tell you how to safely cross the road? (think, stop, look and listen).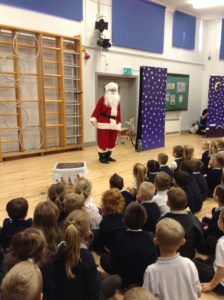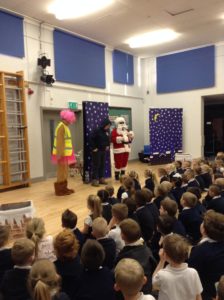 We have also had a special visit from Father Christmas. He read us a special Christmas story and listened carefully when we told him what we would like for Christmas. We were all very lucky and received a present to put under our Christmas tree ready for Christmas morning.