As you will have probably noticed, we have a lot of conkers in Nursery at the moment and children are still enjoying finding more! It's amazing just how many learning opportunities they have provided:
counting
weighing
comparing sizes and ordering
making patterns
using tongs to pick them up (This is a great way to help children develop and strengthen the muscles of the hands and fingers.)
observational drawing (Make sure you have a look at some of the artwork on display in the Rainbow room)
conker rolling paintings
discussions about texture
conversations about the changes in seasons
hide and seek games with friends outside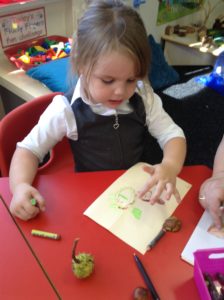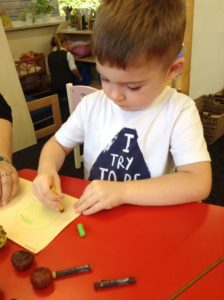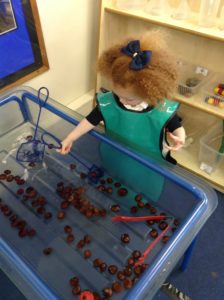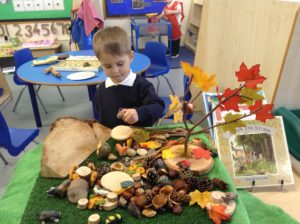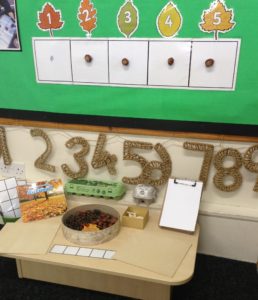 There are lots of Autumn activities you could do at home:
The Woodland Trust has a selection of Nature Detectives activity sheets that you can download and print. Here is a link to the Autumn leaf Nature Detective sheet – you could go on a leaf hunt and see which leaves you can find. Talk about the different shapes, colours and sizes and don't forget to tell us about your adventures at home.
There are lots and lots of Autumn activities on the Imagination Tree's website.  We particularly like the creative ideas involving painting with different sticks and leaves and conker rolling in paint. It's great to explore different ways of making marks and patterns.
There are a few links to Autumn themed games and activities on the CBeebies website. We like to count leaves in our Nursery garden and enjoy having a go at 'squigling' using zig-zag and wavy lines.