Thank you to all the parents/ carers that were able to attend our Funky Phonics stay and play sessions today. The children enjoyed sharing their learning with you.
Many parents/carers have been asking how to support their child when writing. We want the children to be as independent as possible and at school we encourage them to go through the following 5 steps.
When checking their writing we get the children to look for the following:
…as well as ensuring it makes sense.
At this stage your child is using his/her phonic knowledge (phase 2 and 3) to write words in ways which match their spoken sounds.
Here are some recent examples:
"My mum is having a baby"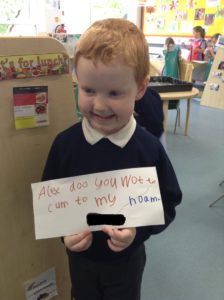 "Alex do you want to come to my home?"
"Harry M will you come to my house?"
This is exactly what we would hope to see. The children have thought of a sentence, listened to the sounds that they can hear themselves and have written them independently.
Don't forget to visit these apps and games to support phonics and letter formation at home.