Week 3 – "I'll huff and I'll puff…"
The story of the Three Little Pigs was really popular last week; it was great to hear so many children re-telling the story using the puppets and language from the story. In the construction area, children made houses for the pigs and there was a lot of discussion about houses being 'demolished'. We looked at some plans for new houses on an iPad and began to draw our own architect's plans. Mrs Brown enjoyed creating some 'mixed-up' fairy tales with children on Tuesday, involving big bad wolves, princesses and giants…Thankfully, they all lived happily ever after!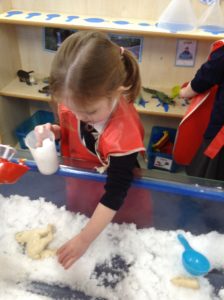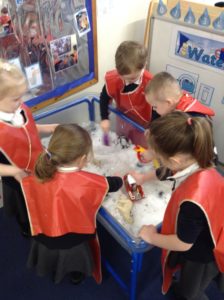 The cold weather provided more fun learning opportunities; we compared the size of our footprints in the snow and used different coloured paint to investigate what happens when you spray snow. There are some new icy paintings on display in the Rainbow room that we created after looking and talking about the frost. The winter-themed stories in our book corner have also sparked a new interest in penguins! Over the last week, staff have noticed children asking to listen to a story called 'Tacky the penguin'. We talked about the iceberg that Tacky stands on. Many children hadn't encountered them before and so we decided to try and make our own mini icebergs. We filled balloons with water and put them in the freezer. We're looking forward to finding out what happens to them when we get them out at the beginning of next week.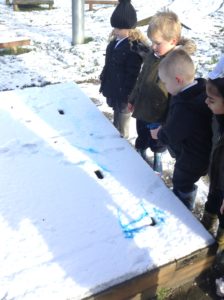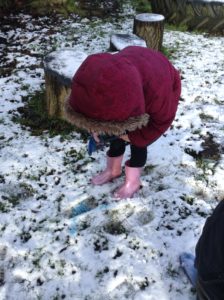 We'd also like to welcome our new children and their families who have joined nursery this week. Everyone has visited nursery for their first session now and we look forward to getting to know all of the new children over the next few weeks. We're really pleased that they've already started to make friends with our older children.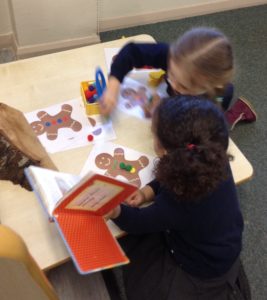 Week 4 – What are we learning this week?
There will be more ice investigations when we take our balloons out of the freezer and create an arctic world for Tacky's friends in the water tray. We continue to be led by children's interests, so many areas of nursery have a traditional story theme. We're going to read another favourite story that has appeared on our interest board – this week we'll be shouting, "Fee, Fi, Fo, Fum!" as we play with Jack and the Giant in his castle outside.  In maths, we'll count beans and golden coins carefully, making sure that we say one number for each object and lining them up to help us count each one once. We will also be talking about rhyming words during group times next week. Try to find some words that rhyme in your bed time stories this week!