As part of our commitment to being a happy and healthy school, we're continually looking at ways to increase the physical activity undertaken within school. The UK Chief Medical Officers found that, "the latest evidence shows there is a clear link between physical activity and chronic disease." We want to reduce this risk by ensuring that our children can achieve the recommended 60 minutes, or more, of physical activity per day. The government wants schools to provide 30 minutes of this.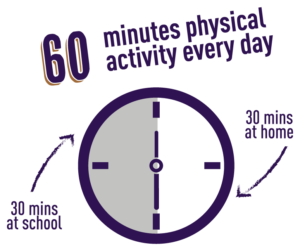 In response to this we have launched the  30:30 Wristband Challenge.
Y1-6 children should have brought a recording sheet home. We'll be taking part in the challenge in school and are encouraging children to continue this at home as well. We already do 10 minutes of Wake Up, Shake Up per day (join in here). We are now striving for 10 minutes of running per day and a further 10 minutes using interactive online resources. The Change for Life website has fun ideas how you can achieve 30 active minutes at home, too.