We have really enjoyed our Easter themed book: 'Rabbits don't lay eggs.' It does make us laugh! The children's writing is really progressing. After the holiday we will have a really big push on this too. Prepare to be amazed!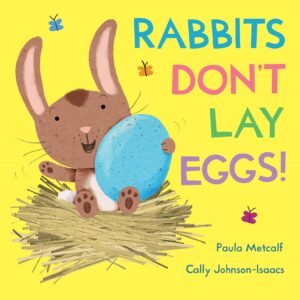 Last week, we were in sun hats and sun cream. This week we've been in the snow with our wellies and woolly hats! We just had to go on a Winter walk in the snow before it melted. It was magical!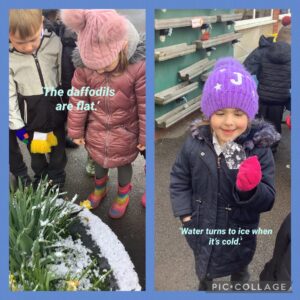 We also, collected the hail stones and enjoyed hands on learning about them.
A little Easter focus in the classroom.
What else we've been up to: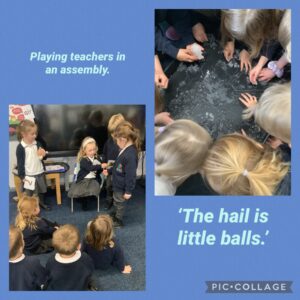 Home-link:
In Maths this week we have been using lots of different measurements. In particular we used the vocabulary: full, nearly full, half full, nearly empty and empty. Perhaps you could find containers and add liquid to match these labels.  Photograph or video your child and send to our email address.
Reminders:
Egg rolling competition. Please send your child to school with a named (and decorated) hard boiled egg on Friday 22 April.
Have a wonderful Easter holiday! School reopens on Tuesday 19 April.