This week we had fun exploring the outdoors and using wild words during the RSPB workshop.
Who has left that glistening trail and how would it get up there? Is it raining today and where would an animal shelter? The session encouraged the use of wonderful wild words and aimed to develop language and vocabulary as we travelled around the outdoor area, considering our walk from the perspective of an animal. We collected the natural objects that we found to become prompts for sequencing a story to retell our outdoor experience.
While out exploring, the children were encouraged to use adventurous words. For example, instead of using the word big the children came up with some more exciting words to describe what they had found.
ginormous
massive
gigantic
enormous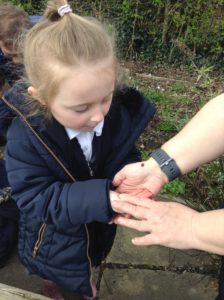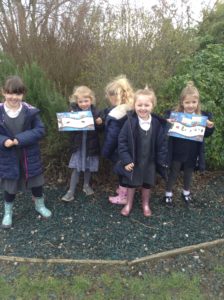 Home link – 3 challenge cubes
Can you go on a bug hunt? Can you use your imagination to think of adventurous words to describe what you find?
Please email us any quotes from your child. This will support us in our assessment by providing evidence towards the communication and language and understanding the world strands of the EYFS.
Children express themselves effectively and develop their own narratives and explanations by connecting ideas and events. 
Children make observations of animals and plants and explain why some things occur, and talk about changes.