Welcome back to nursery. We hope that you had a lovely break and enjoyed the Christmas and New Year celebrations. We were really pleased to see so many happy and excited children on their first day back last week. It's lovely to know that children enjoy coming to nursery and that they feel happy and safe, and have formed good friendships with their peers and staff.
Children were keen to share their news about Father Christmas and to tell us about some of their holiday adventures. However, two weeks is a long time for a 3 and 4 year old and they often forget! We'd love it if you could send us some photographs and a short description of something that you did in the holidays. It could be how you spent Christmas day with family, an outing to the seaside/theatre/park, playing in the snow (for the morning that we had some!) or anything else that your child would enjoy sharing with us. The nursery email is scholesf1@spherefederation.org  Having a photograph to talk about that your child can really relate to, helps to boost their confidence and provides a great opportunity for them to talk about their own experiences. We often find that children who may be quite shy and reluctant to talk, often have lots to say when they can see a photograph and remember something special that they have done. We look forward to a full inbox this week!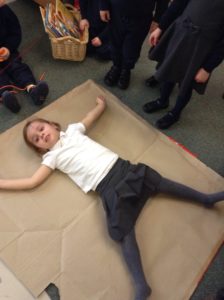 We had lots of fun returning to nursery, building robots out of Christmas boxes, drawing around each other to create a large gingerbread man, using the remote control cars to navigate around nursery and taking part in throwing activities, where we had to reach the targets throwing the beanbags in different ways.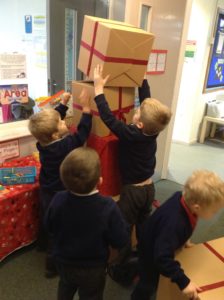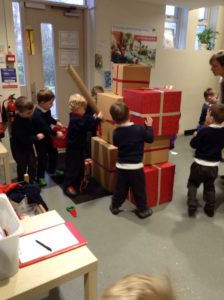 Last week, we spent time settling back into nursery routines and we introduced children to the popular traditional tale, The Gingerbread Man. Children really enjoyed listening to the story and are already beginning to join in with some of the repeated refrains "You can't catch me…"  We will continue to enjoy re-telling the story this week and we may even have a go at baking our own gingerbread men if we can catch them before they run away! Of course, there'll be lots of counting opportunities too; children will be counting out buttons for the gingerbread man.
You can read the story of The Gingerbread Man on-line  and there's also a link to a game at the end of the story where children can match the correct number of buttons to the numeral on the baking tray.
This week, staff will be visiting the new children at home before they join us for a "Stay and Play "session on Friday afternoon. The current nursery children will be able to show us what fantastic friends they are by welcoming the new children and helping them to play and settle into nursery. This is a great opportunity for the children to demonstrate how much they have matured since they started nursery in September and how confident and independent they have become.