This afternoon, the Y6 children visited F2 to share stories. The children were put into pairs and then chose a story to read together. First the F2 children listened to a story read by the Year 6 children and then the F2 children read one of our Biff, Chip and Kipper stories to them. The F2 children enjoyed reading to the older children.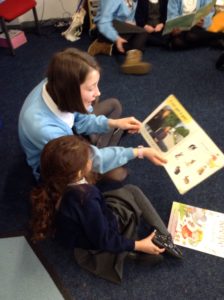 We are looking forward to welcoming parents/carers to our third stay and play session (stay and read) on Thursday 01 March 8.50am – 9.20am or 2.45pm – 3.15pm. 
The children are very excited about coming to school dressed as their favourite story book character. We (the Foundation 2 staff) will also be dressing up as characters from a storybook.