Holiday tales and ice-creams
It was great to see so many happy faces return to Nursery and we loved hearing all about your family outings during our group time conversations. Lots of children enjoyed trips to the seaside and role play in our mud kitchen area soon turned into children selling ice-creams!
We developed this throughout the week, adding a few ice-cream themed enhancements to the mud kitchen. Children had been enjoying colour mixing before the holidays, so we followed this interest to make some ice-cream signs for our shop. We talked about the different flavours that children liked and tried to mix some colours to match them.
Children have enjoyed playing ring games and using our new castle small world area. As the weather was so hot at the start of the week, we moved lots of our provision into the shade and we even enjoyed having a 'picnic' snack time outside.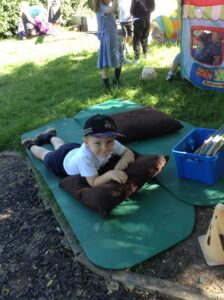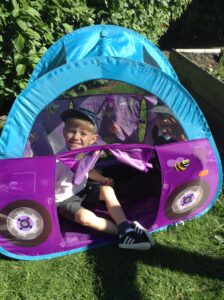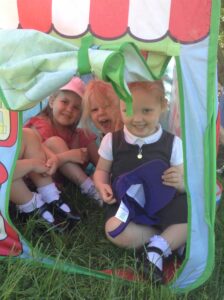 We're going to continue with our learning about the coast next week. We'll be exploring the texture, size and shape of shells, using sandy playdough and creating our own foam ice-creams with sprinkles in the sensory area.
If you've been to the seaside recently and have a photograph that you'd like to send us, please email it to scholesf1@spherefederation.org and we'll display them in our seaside small world area for children to talk about their trip with their friends.
Sunny days
We've had some beautiful, but very hot sunny weather this week. Please make sure that your child has a sun hat and water bottle in school every day. As always, please clearly label them with you child's name.
We've also had lots of questions about sun cream.   On sunny days, sun cream should be applied before children come to Nursery. If your child's sun cream requires it to be re-applied after lunch, please put a NAMED bottle of sun cream in their group's water bottle basket on the days that you would like it to be re-applied.
Welcome back – the final half term!
We hope that you all had a lovely half term holiday in the sunshine. We're looking forward to seeing some of your holiday photos and hearing all about your adventures when we return to Nursery.
Please remember to bring raincoats and sun hats (with your child's NAME clearly marked) to Nursery everyday; we never know what the weather is going to do at the moment! Also, please refer to our previous post regarding sun cream.
Before the holidays, children remained interested in minibeasts and loved listening to 'What the Ladybird Heard'.  We drew lots of maps to try and trick the thieves (listen to the story) and we also learnt about the life cycle of a ladybird. If you remember from our earlier post, we found some tiny larvae that had just hatched in our Nursery garden. We're hoping to find them and see if they've grown when we return this week.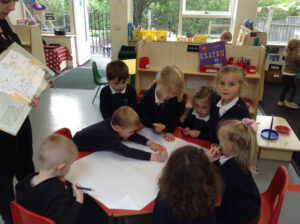 In the creative area, children enjoyed learning the names of the parts of a ladybird's body using a non-fiction text and we used this information to create our own ladybirds using salt dough.
Other fascinations that we explored in the final week before the holidays included building ramps for cars and towers using Duplo.  There was lots of mathematical language involved in both activities with children using words such as tall/short, taller/shorter, tallest/shortest to describe their towers and further/furthest to describe the distance their cars travelled.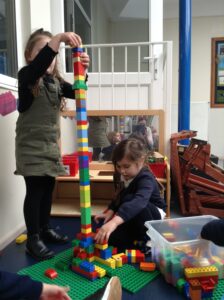 ]
Finally, before the holidays, there was a lot of excitement about holidays to the seaside and trips to the caravan. We'll soon find out if children enjoyed their adventures and we'll incorporate their current interests into our learning over the next few weeks. Please remember to email us if your child has a new fascination at home! scholesf1@spherefederation.org
A very busy week!
We don't know where to start with this week's post about our learning in Nursery; we've done so much! We thought the best way to show you, is through some photos and a video.
Butterflies
Our butterflies began to emerge from their chrysalides on Wednesday; it was very exciting. We've been learning all about the life cycle of a butterfly and we have watched and waited patiently for the last 2 weeks.  We enjoyed watching them for a couple of days and set them free on Friday.
Bye bye, butterflies!
More minibeasts
We're still enjoying spotting minibeasts in the garden. This week, we managed to find more little eggs on the back of a leaf, some ladybird larvae that had just hatched and a very tiny caterpillar. If you look very carefully, you can just see the hole that it had munched in a leaf.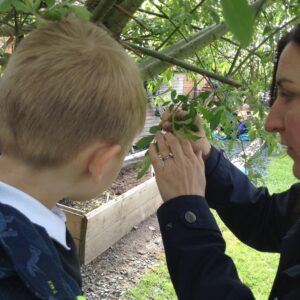 Creative
Inside, we explored a printing technique to make butterflies with symmetrical wings.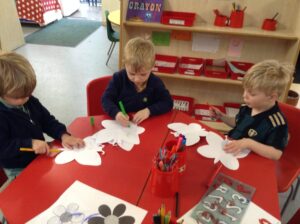 On the thundery afternoon, we danced to music and used claves to tap in time with the beat. We also made a long tunnel, made from children, to drive the remote control car through!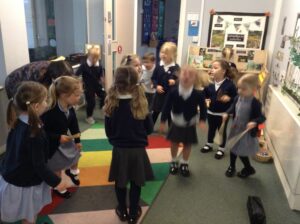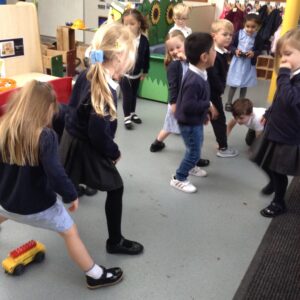 Lava
At the start of the week, some children showed an interest in lava erupting as they were playing in the water. They filled their containers to the top and continued to pour, enjoying watching the water flow over the top. To build on this interest, we had a go at making our own volcano eruption. Watch this video to see what happened.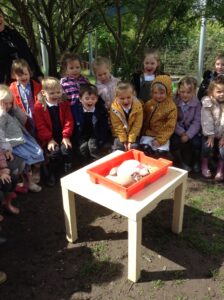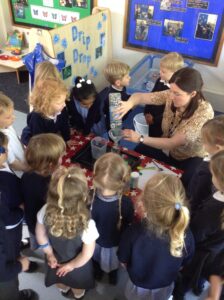 Measuring
After our work in maths where we compared the length of different worms, children have shown interest in measuring. At the end of the week, Mrs Beesley and some children made their own measuring stick because the one that they were using, just wasn't long enough!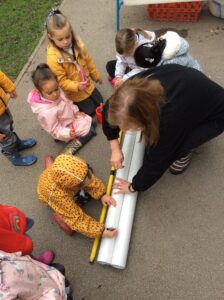 Weather
The weather has also provided lots of excitement this week. We've had hail stones, thunder and lightening, rain, wind and some sunshine. Please remember to send your child with a waterproof coat (with a hood) EVERYDAY, even if it's sunny in the morning. As you'll see from the photos, we learn outside, whatever the weather. Children especially enjoyed splashing in the puddles and exploring the patterns that their footprints made in the mud!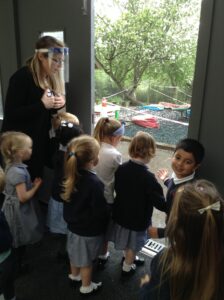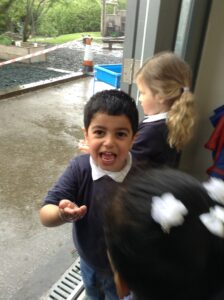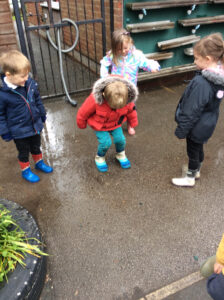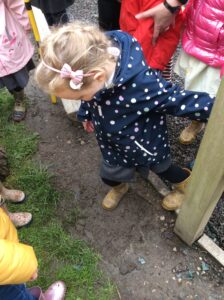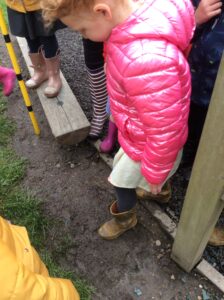 We hope that you can see from the children's faces, there were lots of happy and engaged learners in Nursery this week.
Scholastic Book Party
We have an exciting new online book fair starting this week. You simply follow the link below to order books from Scholastic at great discounted prices. School will then get 10% of all sales to buy books for school.
https://book-parties.scholastic.co.uk/party/scholesprimary
The link can be shared with family and friends and is for anyone to use. The more we order through the link then the more books we will get for our school.
You can either choose home delivery, which is free when you spend over £25 or you can select free group delivery. Group delivery means the books will be delivered to our book party host Laura Fieldhouse. Laura will contact you for collection from school.
Laura is happy to help select books for gifts, choose age appropriate books or help with any queries. Please contact her on 07840455397. Alternatively, visit Laura's facebook page 'Laura's little bookworms', where you will find lots of recommendations.
Wiggly Woo!
There's a worm at the bottom of the garden and his name is Wiggly Woo!  We've been singing this song a lot this week; have a listen at home and you'll soon see what we mean!
Following on from last week's interest in worms, we've learnt all about wiggly worms this week and have made our own wormery. Children loved looking for some worms and comparing their lengths. It also created a lot of discussion about where worms live, how they move and what they might eat. We found out lots of interesting facts, too. Ask your child if they can remember any of them. Do worms have teeth or ears? How do they eat?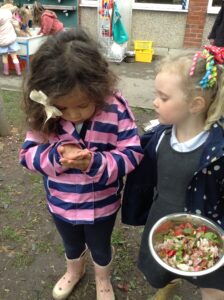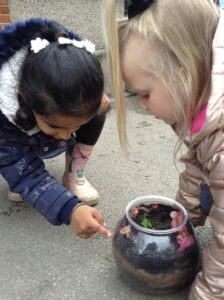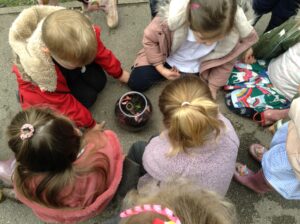 The storms on Wednesday were the cause of excitement on the walk to Nursery. Did you see the hail stones?  We collected some from outside and had a look at them. We talked about where they came from, what they were made of and what happened when we held them in our hands.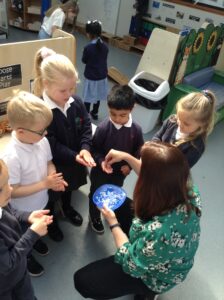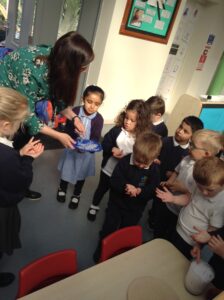 As the weather is very changeable at the moment, please make sure that your child has a waterproof coat in Nursery everyday, even when it's sunny in the morning.
The beautiful blossom from our Nursery apple trees has been popular this week. We've painted it, danced in it as it fell from the tree and we've even 'cooked' with it in our mud kitchen.  All of which covered lots of elements from the Expressive Arts and Design part of our Early Years Curriculum!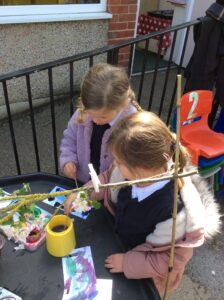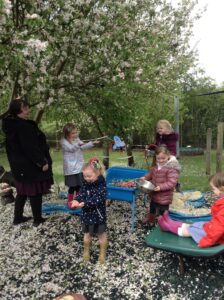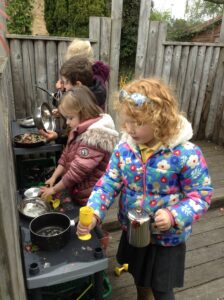 As well as hunting for worms and being creative with blossom, we've also been busy creating a 'car' wash and petrol station. As you can see from the photographs, children really enjoyed cleaning the trikes and driving through the car wash. Some children were saying "Red. Stop!" during their role play, so we made a traffic sign for them to help control the queue. Green for go!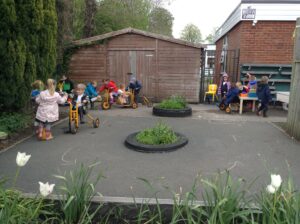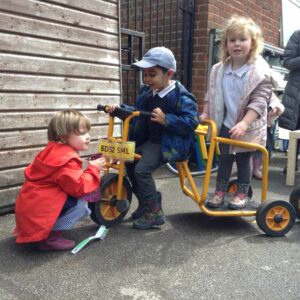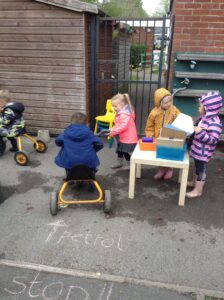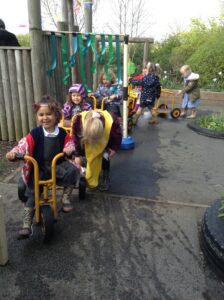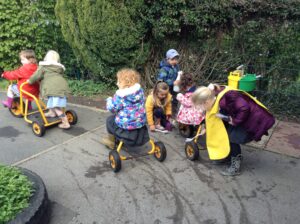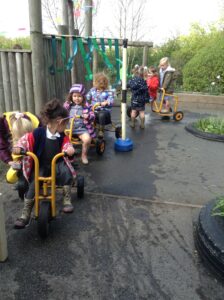 Finally, after what seems like a very busy shorter week, we spotted some tiny eggs on a leaf. We think they might be ladybird eggs. Watch this space over the next few weeks…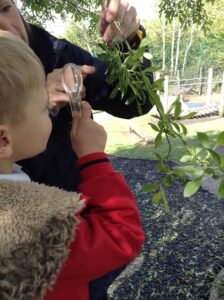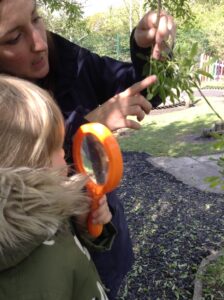 Busy Bees
What a lot of busy little bees there were in Nursery this week.  We learnt all about bees and how they make honey in their hives. At snack time, we tasted two types of honey including 'set' and 'runny' honey. Although some children were a little reluctant to try it at first, everybody had a taste and decided if they liked it or not.
At the dough table, some children chose to use the enhancements to make their own bee, carefully counting out 6 legs and 2 wings.
Our Fiddly Finger's challenge this week also required lots of team work. We had to carefully remove the leaves from the bee hive without disturbing the bees. At tidy up time, we made sure that all the bees were there by counting them into a tens frame.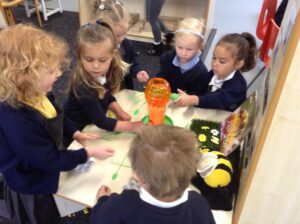 In our group time this week, we read 'Oi Frog' and tried to pair the animals to things that they rhymed with. Listen to the story and have a go at home. Cats sit on mats, frogs sit on logs, parrots sit on carrots… you get the idea!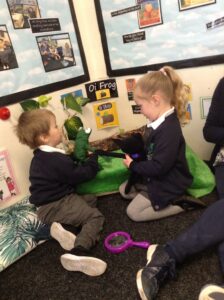 Outside, we played a 'bee' game where we had to collect 'pollen' from around the garden. Children loved hiding the balls for their friends and then running to find them. After we'd collected the pollen balls, we counted them into a large five frame to see how many we had found.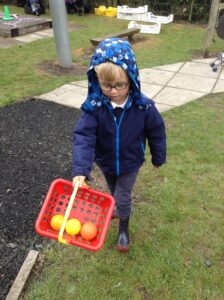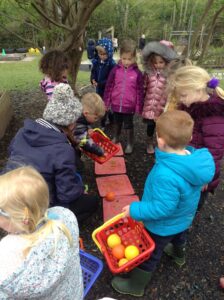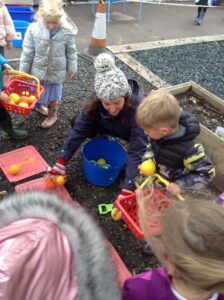 A few weeks ago, we planted some vegetable seeds. We've been monitoring their growth carefully and this week, they were big enough to plant outside in our planters. Whilst we were digging, we found lots of worms! Children were fascinated with how they moved and the different sized worms that they found. We'll follow this interest next week and learn more about worms and where they live.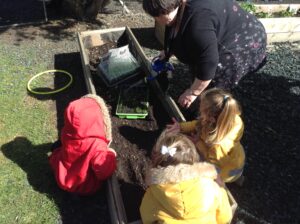 The Very Hungry Caterpillar
We had a special delivery in Nursery this week; children were very excited to find out what was inside the little cardboard box.
Inside, we found 5 tiny, spiky  caterpillars! We've been checking on them everyday, and just like 'The Very Hungry Caterpillar', they're very hungry and are getting bigger and bigger each day.
During group time, we learned about the life cycle of a butterfly and counted pieces of fruit that The Very Hungry Caterpillar ate. In the Fiddly Fingers area, children strengthened their finger muscles by 'munching' holes into leaves.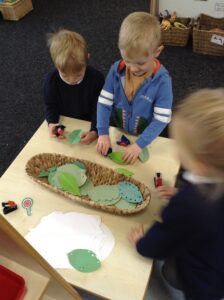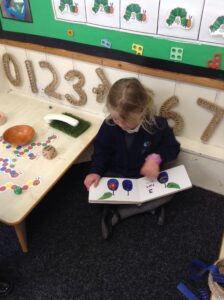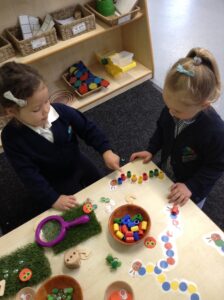 Following on from our obstacle course last week, children have continued this interest, by creating their own using the wooden blocks and planks.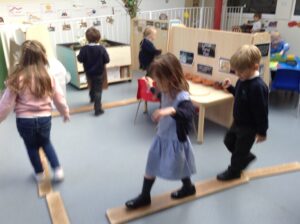 We've also noticed children have been role playing 'police' and 'doctors' since we returned to Nursery so we've introduced a new Emergency Services role play area in the Sunshine Room.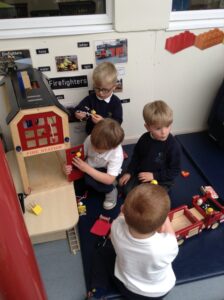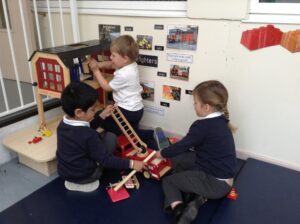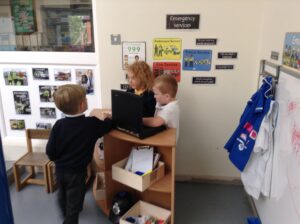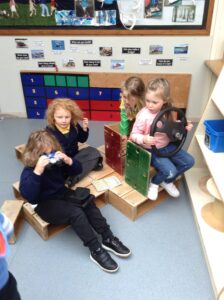 Next week, as well as monitoring the growth of our caterpillars, we'll find out about bees and hopefully enjoy sampling some different types of honey at snack time.
Welcome back!
What a fabulous first week back! We loved seeing your holiday photographs and finding out about your adventures to parks, playgrounds and Piglets Adventure Farm.
This week, we have certainly made the most of the beautiful, sunny weather. In our outside area, we noticed lots of catkins had fallen off the tree. Children loved gathering them together and mixing them with sticks, petals and leaves. We had lots of different recipes and creations to try, ranging from vegetable soup to chocolate cake and ice-cream. Yum yum!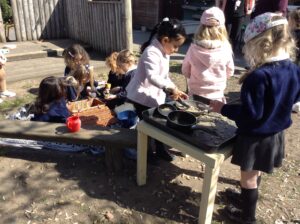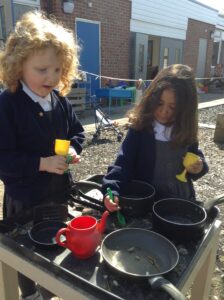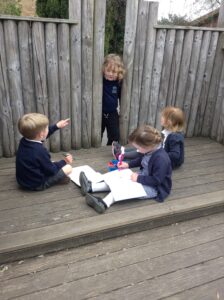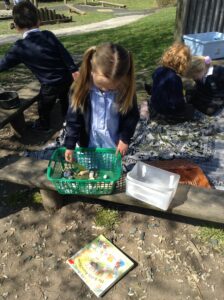 We also listened to lots of stories with our friends, created our own music, had a picnic and played football.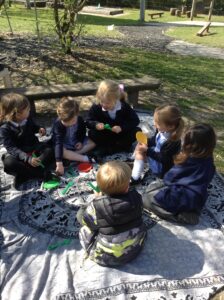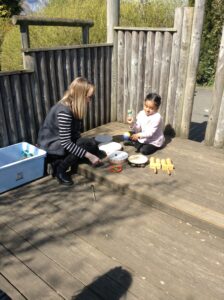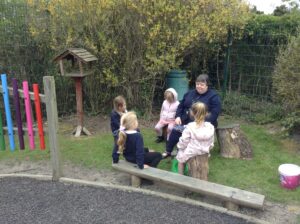 Our obstacle course was very popular;  you'll see lots of engaged and happy faces in the photographs.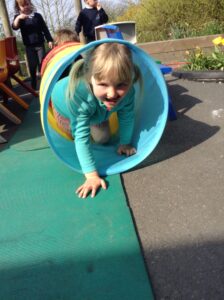 Physical Development is one of the Prime areas of the Early Years Foundation Stage so we're always looking for different ways to allow children to challenge themselves and develop their balancing, climbing and movement skills.  There was lots of team work, with children waiting for their turn and encouraging each other as they moved around the course. It was lovely to hear some children proudly shout, "Look at me!" as they managed to balance on one leg independently or walk over the wobble board without falling off.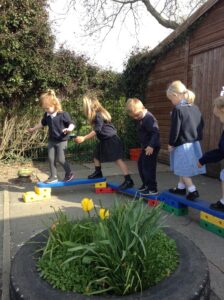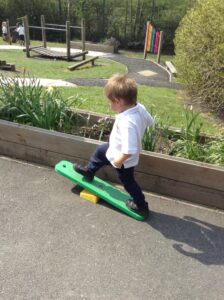 As we were outside so much, lots of children spotted different flowers that had grown in the garden. We looked at the different coloured tulips and tried to guess the colour of the petals what were yet to open from their buds.  As well as flowers, there was a lot of interest in all of the bugs that seemed to be out and about this week! Miss Backhouse found a green caterpillar, Mrs Long found a beetle and Mrs Beesley spotted lots of insects flying around on Thursday.
Over the next few weeks, we will learn all about different minibeasts, starting with one of our favourite stories, 'The Very Hungry Caterpillar'. We're sure you'll be familiar with this one, but if you don't have a copy to read, here's a link to listen at home.
Reminders
Please ensure that your child's water bottle has their name on.
If your child has a packed lunch, please make sure that you follow our 'Guide to Healthy Packed Lunches' and save chocolate bars and sweets for home.
Sunny days
Your child will need a NAMED sun hat in school everyday.  On sunny days, sun cream should be applied before children come to Nursery. If your child's sun cream requires it to be re-applied after lunch, please put a NAMED bottle of sun cream in their group's water bottle basket on the days that you would like it to be re-applied.
Finally, congratulations to Miss Whitaker, who got married during the holidays. Mrs Crompton enjoyed telling children all about her wedding day and even brought in her dress and flowers for us to see!
Easter eggcitement!
We had an eggcelent week learning about Easter time and taking part in lots of traditional Easter themed activities including tasting Hot Cross Buns, making Easter cards, decorating and rolling eggs and joining in with an Easter Egg hunt.
We've put together a video to show you some of the highlights from this week.   Foundation 1 Easter Fun
Thank you to everyone who joined us for our Parent Teacher Consultations this week; it was great to speak to you and discuss your child's progress. If you didn't get chance to make an appointment, or if we need to rearrange it, please speak to us when we return to Nursery.
Have a fantastic Easter break! Don't forget to e-mail us some photographs of your holiday adventures or of your Easter celebrations. We'll be talking about our holidays in group time during the first week and it's always lovely to have some photos to share. scholesf1@spherefederation.org