Christmas information
Here is all of the important Christmas information that was provided on the letter that we sent home on Monday.
Christmas events
We will still be celebrating Christmas this year, although once again, it may look a little bit different to our usual Nursery celebrations.  Here are some important dates and information about the next few weeks in Nursery.
Christmas Recording
As outlined in our previous letter, it's not going to be possible to host a Christmas performance that you can watch in school this year. However, that's not going to stop us from performing! You'll be able to watch 'Our First Christmas Play" from the comfort of your own home. For this, we'd like children to have a Christmas themed/coloured top trousers, leggings or a skirt to wear when taking part in the play. Please bring it to school by Wednesday 1st December.  You do not need to buy anything new – a cheerful or festive top that they can be comfortable in all day (playing out and eating lunch in too) will be fine.  Please put your child's NAME in their clothes and put it in a small bag.  It will remain in Nursery until we have filmed our play.
 Christmas Dinner
Christmas lunch in school will be on Thursday 09 December.  If you'd like your child to join in, please let us know and we'll add your child onto the list. Payment (£2.20) can be made online. Please call the office if you are unsure of how to do this.
 Christmas Party
Our Nursery Christmas party will be on Monday 13 December in the afternoon. If your child already attends Nursery on that day, you can send them to Nursery in cheerful or festive clothing.  Children will still be playing in Nursery provision and outside in the morning, so please make sure clothing is warm and comfortable.
For children that attend Nursery on Monday, collection will be at the same time as usual, 2.15pm.
If your child doesn't attend Nursery on Monday, they are welcome to join us for the party. Children will need to have had lunch before they arrive and be wearing their 'party' clothes. We will greet you at the main Nursery door.  Please arrive promptly at 12.30pm and collect at 2.15pm. Please let a member of staff know if your child will be joining the party.
Children attending mornings only – If your child usually only attends Nursery for the morning session, please feel free to swap their morning session that day and just arrive for the party in the afternoon, or you can collect them slightly earlier on the party day at 11.30am. This should allow you time to have some lunch before returning to Nursery. Please speak to a member of staff if you have any questions.
Party treats
Children will have lunch as usual on Monday but during the party, we will provide them with a treat and drink. We'd like to ask for £1 contribution towards party treats and will place a donation jar outside Nursery soon.  Thank you in advance for your contributions.
Christmas crafts
It wouldn't be Christmas in Nursery if we couldn't take part in all of our favourite Christmas crafts! Sadly, we can't invite you to our usual 'Christmas Stay and Decorate' mornings, but don't worry, children will still get to take part in some fun activities. We will put their Christmas crafts in a bag and send them home in the final week.
Applying for a primary school place?
If your child is due to start primary school in September 2022,  you can apply for a place from 01 November 2021.  The deadline for applying is 15 January 2022.
You can apply for a place online at: www.leeds.gov.uk/apply 
Use this link to download and read further details and FAQs.
Shapes
This week, we've been learning all about 2D shapes. In group time, we started by sorting some shapes by their colour and size. Next, we tried to find the same shapes and sorted them into circles, triangles, squares and rectangles. We've used lots of new mathematical vocabulary as we described the properties of shapes, including some formal and informal language such as sides, corners, curved, straight, round and flat.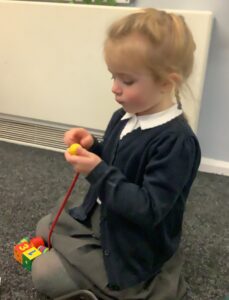 On Wednesday, we went on a shape hunt around school.  Children were really good at spotting some common shapes in the environment.  Have a look for some shapes around your house or on your walk to nursery. At the moment, we've been learning about common 2D shapes, but you may spot some other shapes or 3D shapes too.
We also enjoyed listening to these shape songs – see if you can spot some shapes as you sing along.  Shape song 1 and The Shape Song Swingalong
Outside, we've been working on our physical development by practising balancing and jumping as we made our way around an obstacle course. Lots of children were a little bit wobbly to begin with, but after a few attempts, they were really pleased to be able to balance along the beams without any assistance.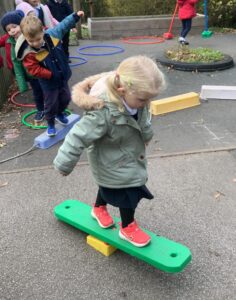 Parent Consultation Meetings
Thank you to everyone who was able to attend a meeting this week. It was great to speak to you all (despite a few Zoom hiccups) and share how pleased we are with how well children have settled into Nursery life. It's amazing how much children have already progressed, growing in both confidence and independence since joining Nursery in September.
If you couldn't make your appointment, please get in touch with us to rearrange.
Reminders
It's definitely got colder this week. We play outside in all weathers, so please make sure that your child has a warm coat every day. You may also want to send a hat and some gloves, too. Please try to name them somewhere, there's often a label inside gloves, or you can use a Sharpie pen in the wrist band.
Please send your child with a named water bottle every day, and fill it with water. Thank you for your cooperation with this.
Look out for the Christmas information letter that we will be sending home soon. It contains all the important dates and information about our Christmas party.
Fundraising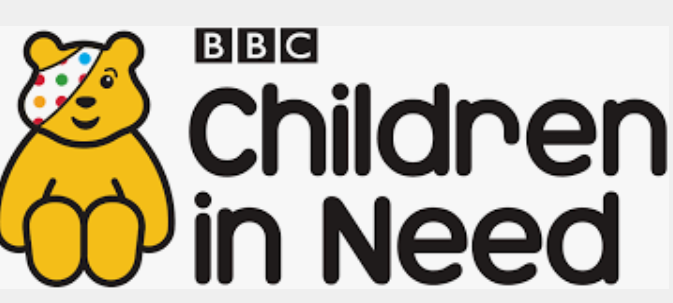 A massive thank you to everyone who donated to our recent fundraising events – you were all unbelievably generous. We managed to raise £126.25 for our school charity – Leeds Autism Services. This was following our Odd Sock Day at the start of anti-bullying week. Last Friday we raised money for Children in Need and managed to raise £410.30.
Thank you all so much.
Christmas Performance
Nursery and Reception Christmas Performance
Unfortunately, this year, we are unable to invite you in to watch our Christmas performance but this won't stop us from getting dressed up and singing for you all. We will still be performing and you will be able to see us from the comfort of your favourite chair.
We will be filming the performance and emailing it for all of our parents and carers to enjoy on Monday 13 December.
This year, we will be performing a play aptly named "Our First Christmas Play"
To get into the Christmas spirit, the Nursery children will all need a Christmas top or jumper, trousers, leggings or a skirt to wear when taking part in the play.
 Please bring these to Nursery in a named bag by Wednesday 1st December please. The clothes will need to remain at Nursery until we have filmed our play.
Thanks for your support with this, the children are really enjoying learning the new songs and we are sure that you will enjoy watching them perform.
Children in Need
Thank you for donating to our Children in Need fundraising non-uniform day.  In Nursery, we talked about what 'Children in Need' is and why people get involved in lots of spotty themed, fun activities.
Here are a few photos from today. You might be able to spot (haha) that we even managed to incorporate Pudsey Bear into our maths learning at group time this morning! We've been learning how to complete a simple repeating pattern so we practised this, adding a repeating colour spotty pattern to Pudsey's bandana.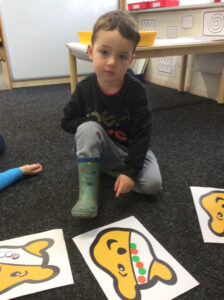 We been busy in the creative area, decorating and making our own spotty Pudsey Bear ears.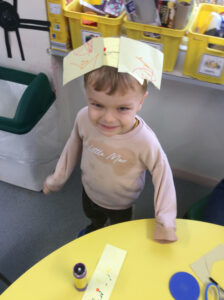 We've practised our pencil control by joining Pudsey's spots in the mark making area.
We also got a little bit messy with foam and spots in the sensory area! Here are the before photographs…
World Nursery Rhyme Week
As you'll have read in our previous post, this week we joined in with World Nursery Rhyme Week.  Ask your child to sing their favourite rhyme and see if you can find a new nursery rhyme to learn this weekend. 
In group time, we tested our memory with a nursery rhyme themed Kim's game and drew Incy Wincy spider with 8 hairy legs.
Can you guess the nursery rhyme linked to each activity? Ask your child to give you some clues!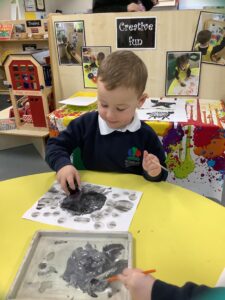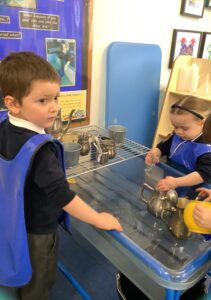 (Baa Baa Black Sheep – printing,  I'm a Little Teapot – Water area, Little Miss Muffet – sensory tray and 5 Currant Buns -playdough)
Outside, children have shown an interest in 'telescopes' which reminded us  of a character from a popular children's story book – Timothy Pope!  We enjoyed reading 'Shark in the Park' and children have begun to retell the story in our new small world area.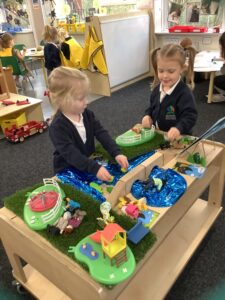 Reminders
Don't forget to join Mrs Beesley or Mrs Long for your Parent Consultation meeting next week. Look out for an email with more information and Zoom details on before your appointment. If you don't receive this by 9am Monday morning, please let us know. 
World Nursery Rhyme Week
It's World Nursery Rhyme Week, so we'll be singing lots of rhymes in Nursery – even more than usual! We know how important Nursery rhymes are for developing early literacy skills; we're hoping that by the end of the this week, children will be able to confidently sing along to some nursery rhymes or will have learnt some new ones, in addition to those that they already know.
Each year, World Nursery Rhyme Week focuses on 5 songs and rhymes, if you're not familiar with this year's rhymes, follow the links below to sing a long at home.
Head, shoulders, knees and toes
In Nursery this week, lots of our areas of provision are linked to some of these rhymes, as well as some other favourites.  We have Twinkle Twinkle Little Stars to sort in our maths area, Incy Wincy Spider to put together at the creative table, Little Miss Muffet's curds and whey to mix in the sensory area and 5 Current Buns to make at the playdough table.
What's your child's favourite rhyme? Send us an email to let us know and we'll make sure we sing it in Nursery.
Pop! Bang! Crackle!
Thank you to everyone who emailed photographs of your Bonfire Night celebrations. Children enjoyed sharing them with their friends and talking about their Bonfire Night experiences during our 'snack and chat' time. Some children loved all of the different colours and noises, where as others explained that they didn't like the loud bangs in the night.
In Nursery, our Bonfire Night small world area was very popular and a great starting point for conversations. Children talked about what they'd seen and heard, as well how to stay safe and how to look after animals on Bonfire Night. We made firework patterns outside in the sand and used fluorescent paints to create our own firework pictures.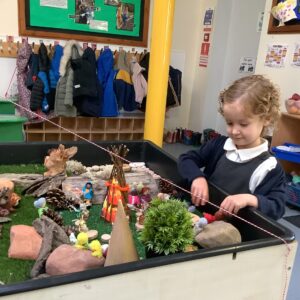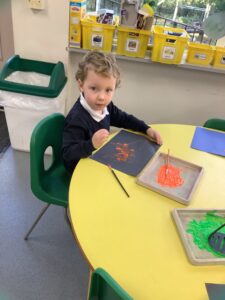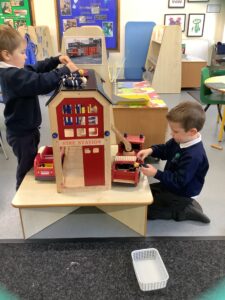 In maths this week, we continued comparing groups of objects to say which had the most and fewest. Children are getting much more confident with this. We compared spikes on hedgehogs in the playdough, counters on the light panel and we even spotted which pile had the most leaves.
Outside, children loved collecting leaves to help tidy our playground. This required lots of teamwork and gave our arm muscles a good work out as we used the brushes and rakes to make large piles of leaves. It's a great way of  developing our gross motor skills, too. The best part was definitely jumping in the leaves and listening to the rustling and crunching noises!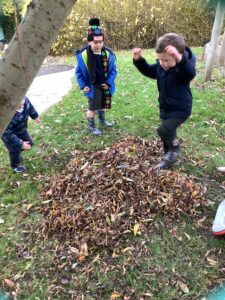 Here are a few other photos from this week: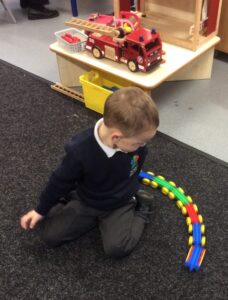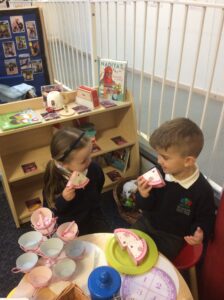 Next week –  Odd socks, Nursery rhymes and Pudsey Bear!
As you may have read on the main school news feed, next week is Anti-Bullying Week. This year's theme is 'One Kind Word' and Nursery will be joining in with the rest of school with Odd Socks Day on Monday. Odd Socks Day is to raise awareness of our differences, individuality and personal choice. Your child (and you!) can come to school wearing odd socks to celebrate what makes them unique.
It's also World Nursery Rhyme Week, so lots of our areas in Nursery will be linked to a well known Nursery Rhyme.  Look out for another post about this soon.
And next Friday is Children in Need day. This is a non-uniform day. Your child is invited to come to school in non-uniform and make a donation to the charity.
Welcome Back!
We loved hearing about all of your half term adventures this week. Some people enjoyed jetting off to sunnier climates and others enjoyed a spooky walk along woodland trails. There was also lots of talk of collecting sweet treats on Sunday evening in the rain!
This week, in group times we've been focussing on our listening skills further. We reminded ourselves of what makes a good listener and then set off on a listening walk through school. Some of the sounds we heard were loud, but some were very quiet and we had to listen very carefully and stay silent and still.  Can your child remember going on a listening walk? See if they remember some of the things that we heard.
Here are some of the sounds that we heard:
a baby crying in playgroup
a spoon 'clinking' in a bowl as someone stirred round and round and the 'chop, chop, chopping' noise of a knife in the kitchen
a creaky door and a door slamming
teachers talking and children laughing
a machine whirring – it wasn't the washing machine though, it was the photocopier!
vehicles on the road and birds quietly singing
the leaves rustling and the wind blowing past our ears
Why not go on a listening walk abound your house and garden? What can you hear?  Listening and identifying environmental sounds around us is a really important part of developing children's early phonics skills.  Let us know how you get on.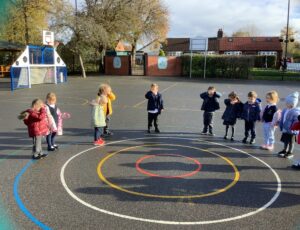 In maths, we're learning to compare collections of objects and say which group has more things. To keep it simple initially, we've been comparing sets that have the same type of items and an obvious difference in quantity (with one group having a widely different number of things). We looked at which plate had more sweets  and which web had the most spiders on it (and also which had the fewest). We'll be continuing this learning next week. Try and include it in some day to day activities at home to help your child consolidate their learning. Which garage has the most cars? Which pile has fewest socks? Which pile has more coins? 
Highlights of the week also included…
Storytime on Monday with Heather the Witch , aka Miss Backhouse!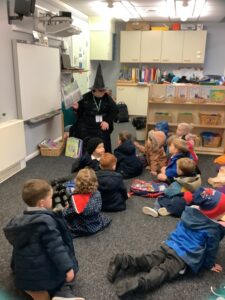 Using tongs to pick  insects out of some very sticky and slimy jelly.
Creating a track game outside where the dragon had to catch the wizard and witches before they reached the cauldron. We rolled the dice and the witch and wizard had to move forward that many spaces.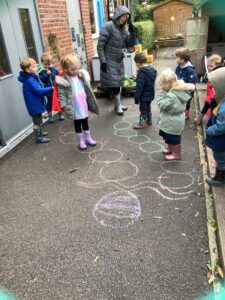 Room on the Broom continued to be a popular story so we made our own wands at the creative table and thought of our own magic words to say as we cast some spells.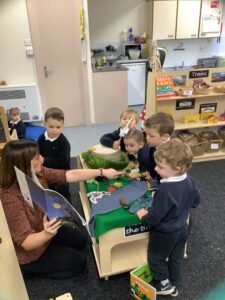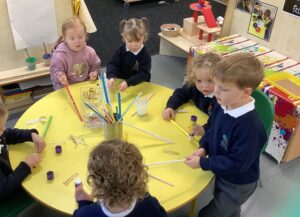 We've also mixed more potions, drawn lots of patterns and even saw some superheroes using a map to help find and rescue people in danger!
After the excitement of Bonfire Night, our learning and activities at the start of next week will be themed around this celebration. Please e-mail us a photograph if you enjoy joining in with any Bonfire Night celebrations. It's a great way to remind children and encourage conversation about their family and home life.  scholesnursery@spherefederation.org 
Have a safe and fun Bonfire Night!