Our last week…
Our last week…
We've had a lovely final week in Reception. We've continued revising our skills through phonics, maths and literacy carpet sessions. We've been writing about our favourite memories throughout our time in Reception and thinking about 'spreading our wings' into year one.
The children managed fantastically well during the heatwave. We spent half an hour outside in the morning on Monday and Tuesday, keeping to shaded areas and keeping cool by paddling. Some of the children picked the peas that had grown in our garden. Regular water breaks, blinds down, cooling wet paper towels or spray bottles and less active activities, ensured we kept happy and healthy. Thank you again to parents and carers, for your cooperation in sending your children to school in cooler clothing and collecting earlier on Tuesday.
The children were happy to get back to full playtimes and outdoor explorations, as the weather cooled down.
The Selfie Station…
The children have throughly enjoyed being in charge of photography this week! They've captured moments at the selfie station and around the classroom. Take a look at their snaps in the video below!
The beach party…
We had some brilliant beach- themed fun on Thursday! What a way to celebrate the end of the year!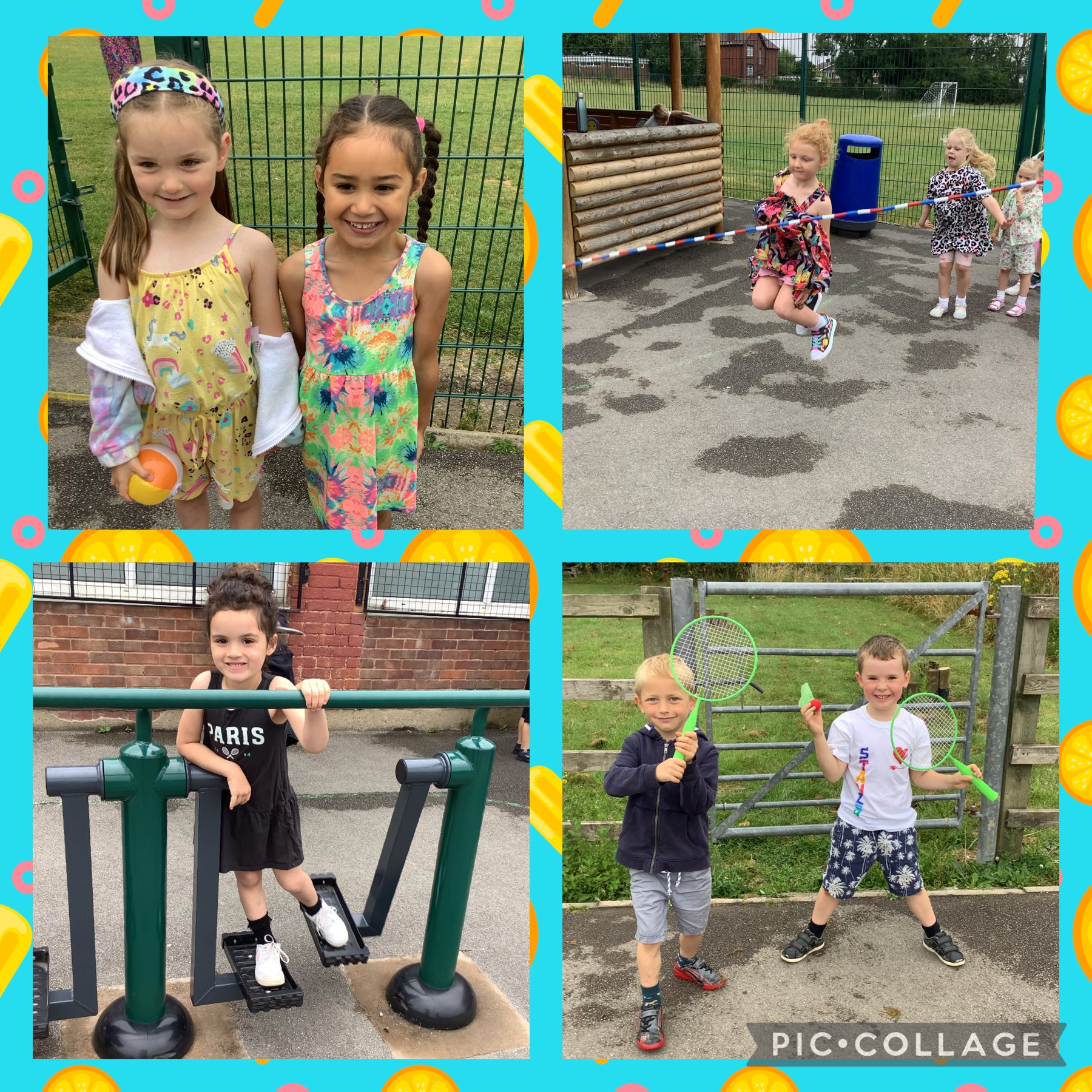 A special performance…
As part of our topic this half term, Where in the world, we've been learning about coastal environments and the sea. Over the past few weeks, Mrs Myers has been working her magic, teaching the children a special song. The children also collaborated in their artwork to create sea animals and seaweed as props to perform the song. We are proud to present to you Octopus's Garden by The Beatles:
Octopus's Garden- Reception 2022
A final message…
On behalf of the whole Reception team, I would like to finish by saying how proud we are of all the children in Reception. We've had such an amazing year together. It is always difficult to say goodbye to our classes, who we cherish so dearly, but we're equally excited for them to start their year one adventures. They are so ready to wow their new teachers!
And to you, our wonderful parents and carers. Thank you for your partnership this year; through general support, home-link challenges, emails, photos, doorway chats and kind words.
Enjoy a relaxing, fun-filled Summer holiday together. We'll see you again on Tuesday 6 September!
Ahoy there matey!
This week, our book focus has been 'The Night Pirate' and many other pirate books.
The children know so much about Pirates:
They fight.- Adriana

Fire the canon!-Jack

They hunt for gold or treasure!-Max

They sail in a boat.-Ronnie

They wear eye patches.-Sofia

They have pirate hats on and a ship.- Stanley
We made predictions about the book and made some amazing story maps. Each child could re-tell the story using the story maps. The book has some adventurous vocabulary too. We like to stop and discuss any new vocabulary and it's meaning. We also try to use the new word in a variety of sentences-perhaps you could do this at home.
Story map examples:
Here's how we extended our learning in 'pirate provision' this week:
Transition-On Thursday afternoon all children spent time with their new class teacher for next year. The children really enjoyed this opportunity to be in their new classroom and get to know their new teacher/s and classmates.
D-I-S-C-O!
We had the best time in the hall dancing, playing games and eating our FOSP organised treats. Thankyou FOSP.
Next week:
Sadly, this will be our last week but we will not stop learning or making memories!
Spare bags-please could you send a heavy duty bag (such as a carrier bag or fold-able shopping bag) into school next week. We plan to send each child's books and special things home. Please name the bag where possible too.
Home-link
Please could your child draw a picture of themselves in Reception with their friends. If your child could write a sentence about a favourite memory from the year that would be wonderful!
WUSU Crew 2022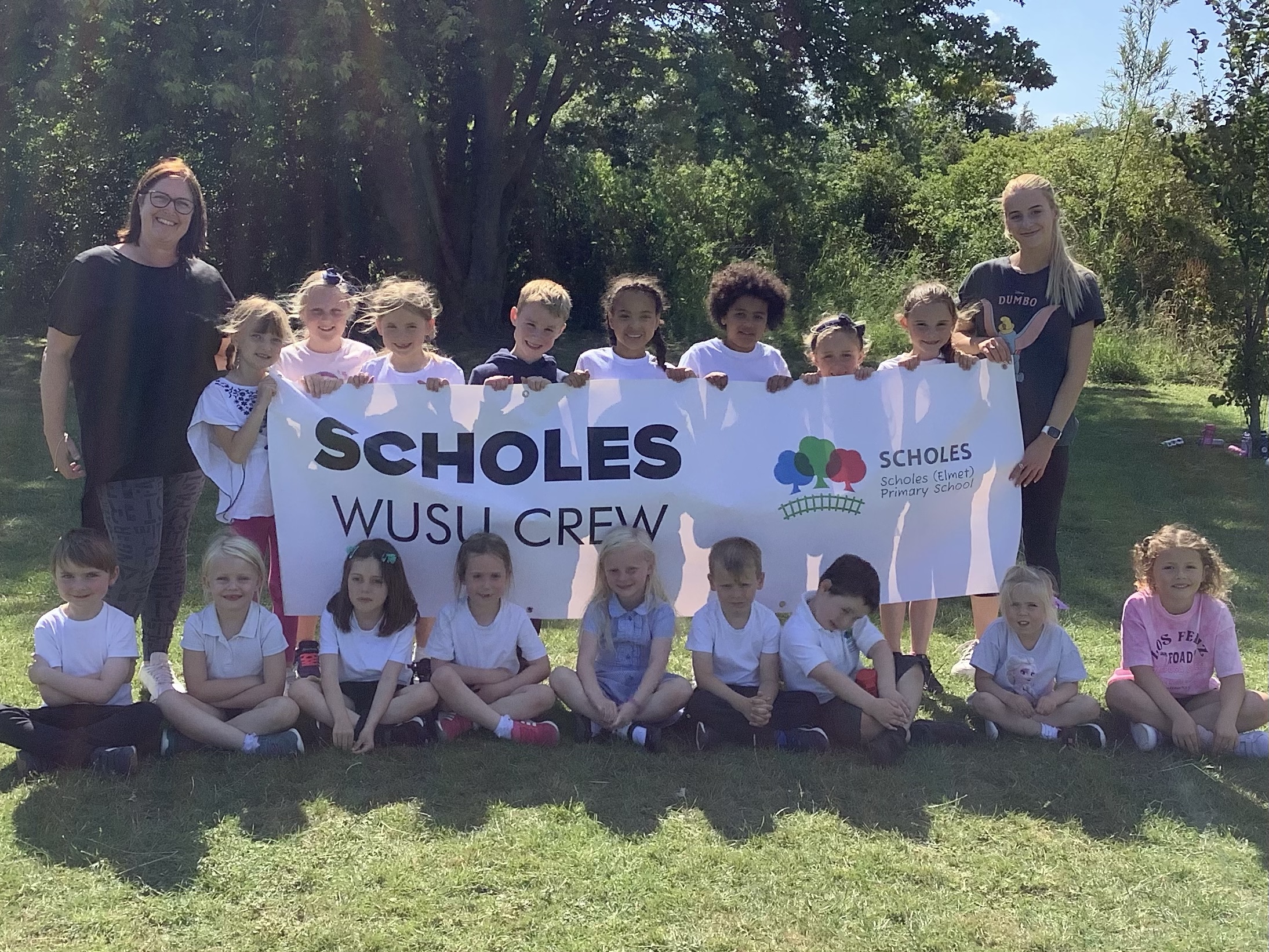 Scholes in Bloom – winning design
A group of children went out to meet the Britain in Bloom judges today. The winning designer of the Scholes in Bloom competition was there and everyone admired the planted design in the flowerbed outside school. It looks fabulous!
Holidays in the past…
Wow! What an exciting week we've had! Starting with our sports roundabout on Monday. The children had a fantastic time and showed amazing team spirit. Thank you to all of the families who came along to support.
Abbey House Museum…
On Tuesday, we had a brilliant trip to the treasure trove that is Abbey House Museum. The children enjoyed learning about holidays in the past, which ties into our current topic work. They tried on costumes, learnt about souvenirs, woolen swimsuits, the 'penny lick' ice-cream, Punch and Judy shows and more! Lunchtime was in the beautiful setting of Kirkstall Abbey and park, before more explorations inside the museum. The children were so sensible and we're really proud of how they represented our school whilst out and about on our adventure. A big thank you again to our parent volunteers.
There are so many photos, that we've made a video. Enjoy!
Literacy…
The children used their experience of the trip, to write recounts of their day. We discussed how we can use words such as 'first', 'next', 'later' and 'finally' to show how time has moved on and to sequence the events of the day.
Maths…
As we move through the last few weeks of the school year, we are revisiting and revising skills. This week we worked on recall- remembering number bonds within five automatically and some within ten. In provision, we have supported this through using part-whole models to again explore the parts that make a whole number.
Here are some more snapshots of learning this week…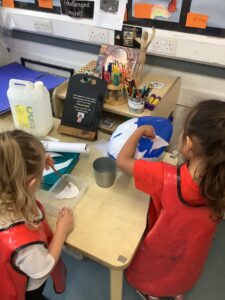 Home-Link Challenge
Oooo arrrrrr… next week we'll be embarking on a pirate themed adventure! We'd like you to use some old packages, boxes and other reusable materials to make a pirate themed accessory. It could be a treasure chest, a telescope or even a parrot!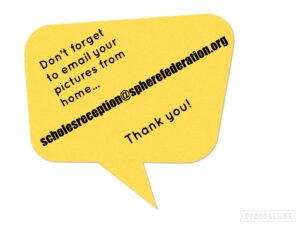 Diary Dates…
14 July-Transition afternoon 1.30-3.00: Please collect your child from their usual classroom, at the usual time.
15 July-End of year disco 2.30-3.30: Children are to come to school in school uniform. Please send named disco/party clothing, in a named bag. Thank you.
Sports Roundabout
We had a successful Sports Roundabout this afternoon after a break since 2019, due to the pandemic. All the children enjoyed collecting points for their team and showed great teamwork and support for each other. Thank you to all the families who came to show their support too. The points are listed below.
1st Northern Ireland 507 points
2nd Iceland 518 points
3rd Germany 502 points
4th Portugal 493 points
5th Sweden 483 points
6th Italy 477 points
7th Belgium 454 points
8th Spain 394 points
9th Netherlands 379 points
10th Norway 366 points
11th France 360 points
12th England 346 points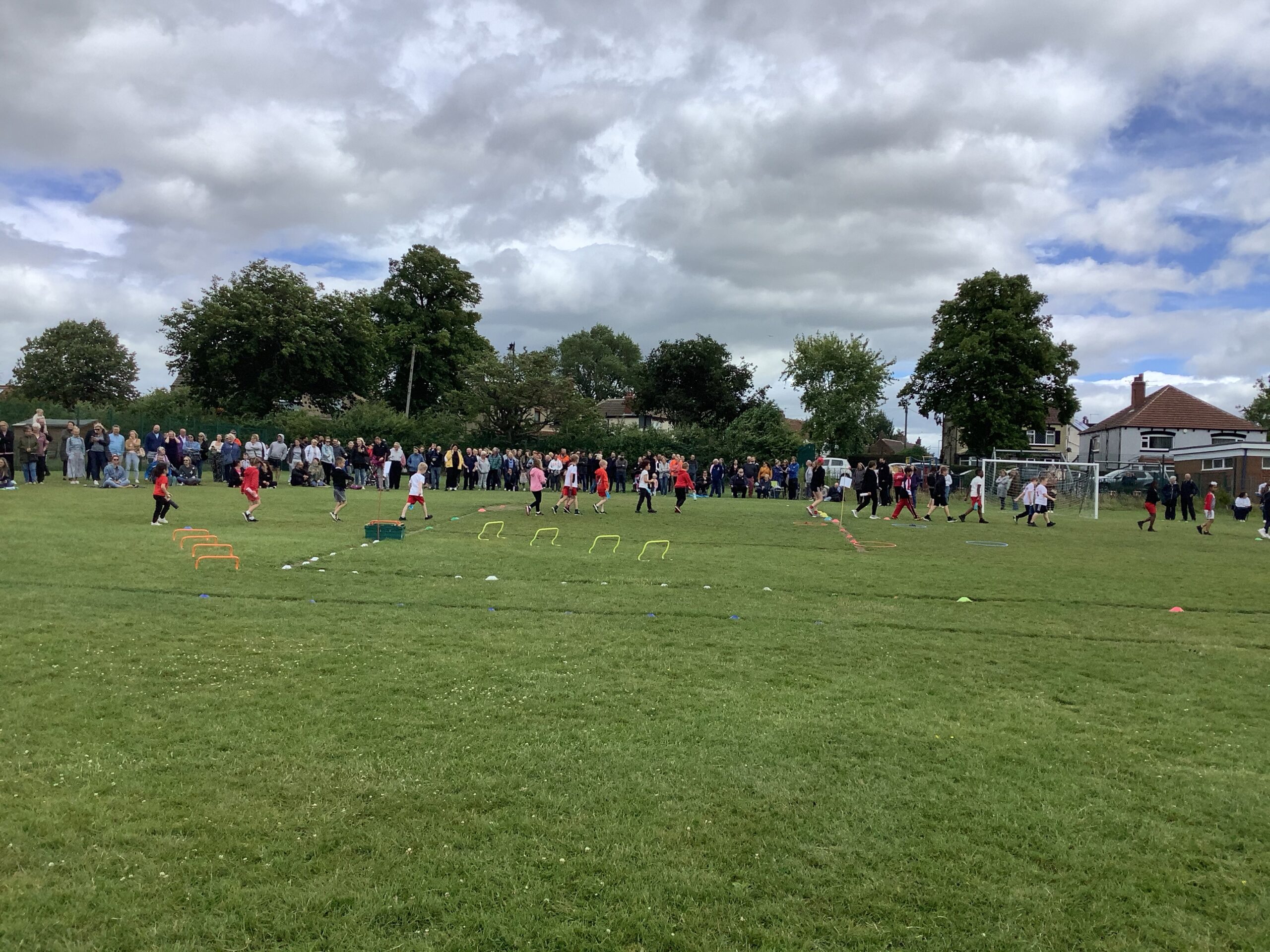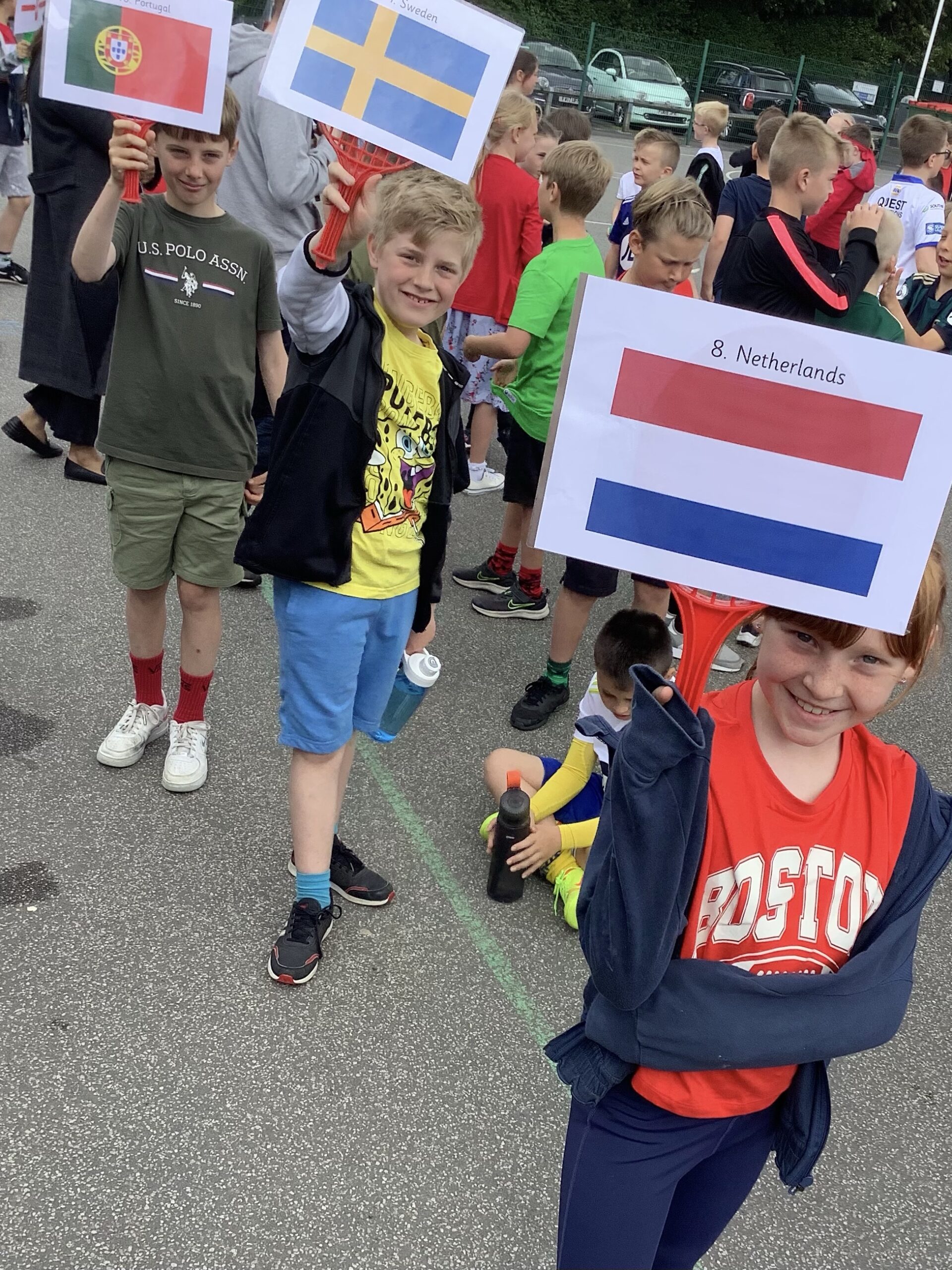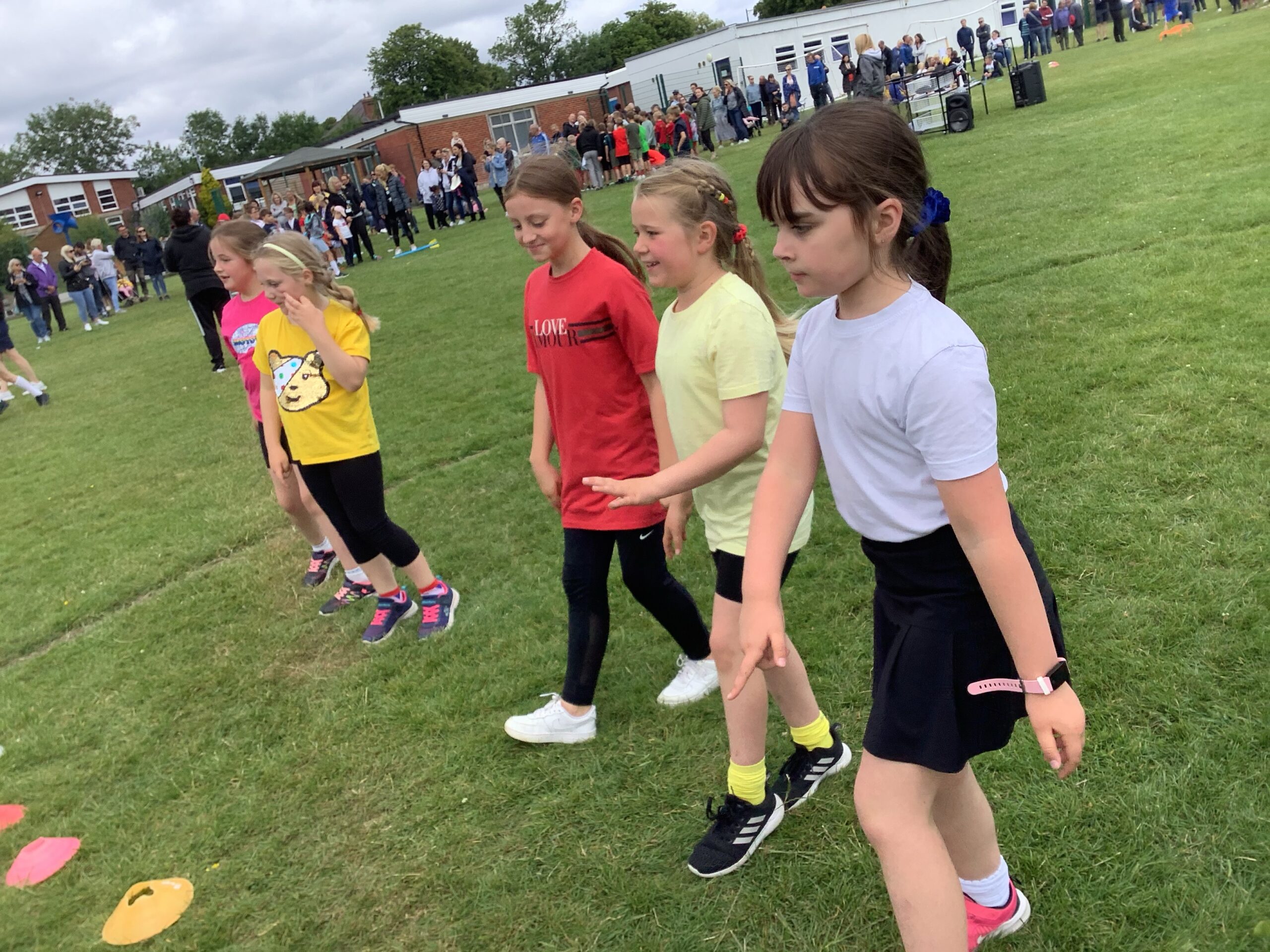 The Lighthouse Keeper's Lunch
This week, we have been reading – The Lighthouse Keeper's Lunch.
We created our own story maps to retell the story.
Can your child retell the story using some of these story maps?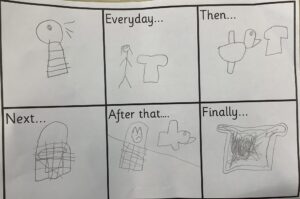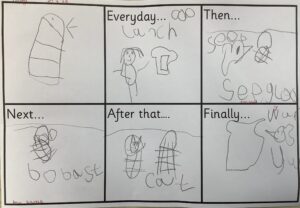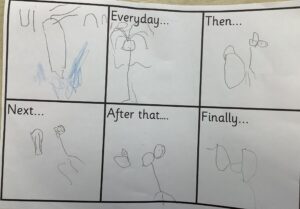 In Maths, we have focused on deepening our understanding of numbers to 10.
We have:
compared groups of objects.
split numbers into smaller parts.
recombined parts to make a whole amount.
explored numbers that can be split into 2 equal parts.
developed our sense of magnitude eg. knowing 8 is a lot more than 2 but 4  is only a little bit more than 2.
On Tuesday, the children really enjoyed their skipping session with the Skipping School.
Check out our other learning in the classroom.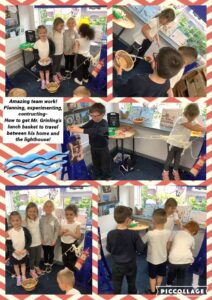 Home Link
Based on our book this week… write instructions to make a sandwich.
Think carefully about each step.
Then follow your own instructions to make the yummy sandwich.
Skipping School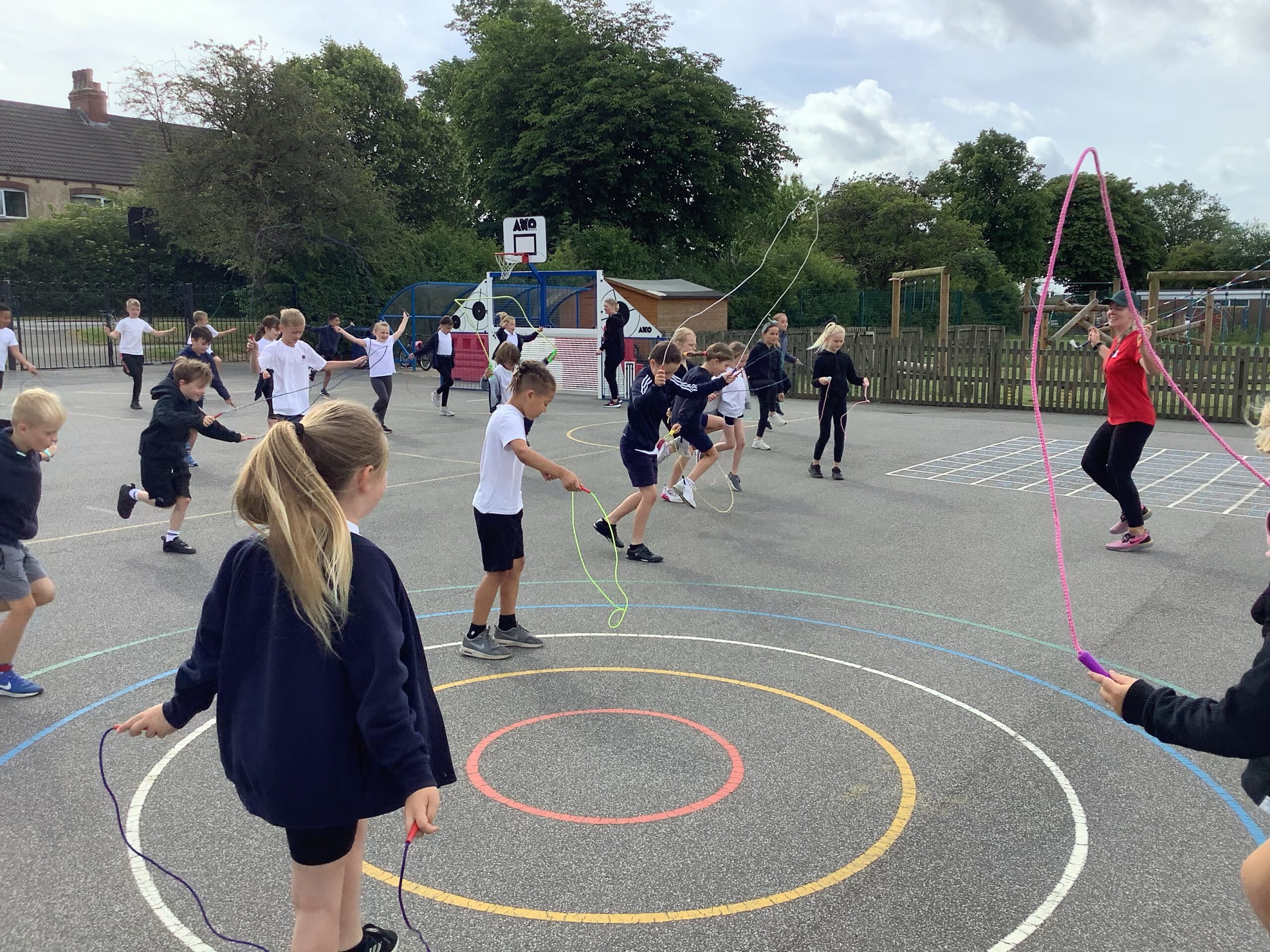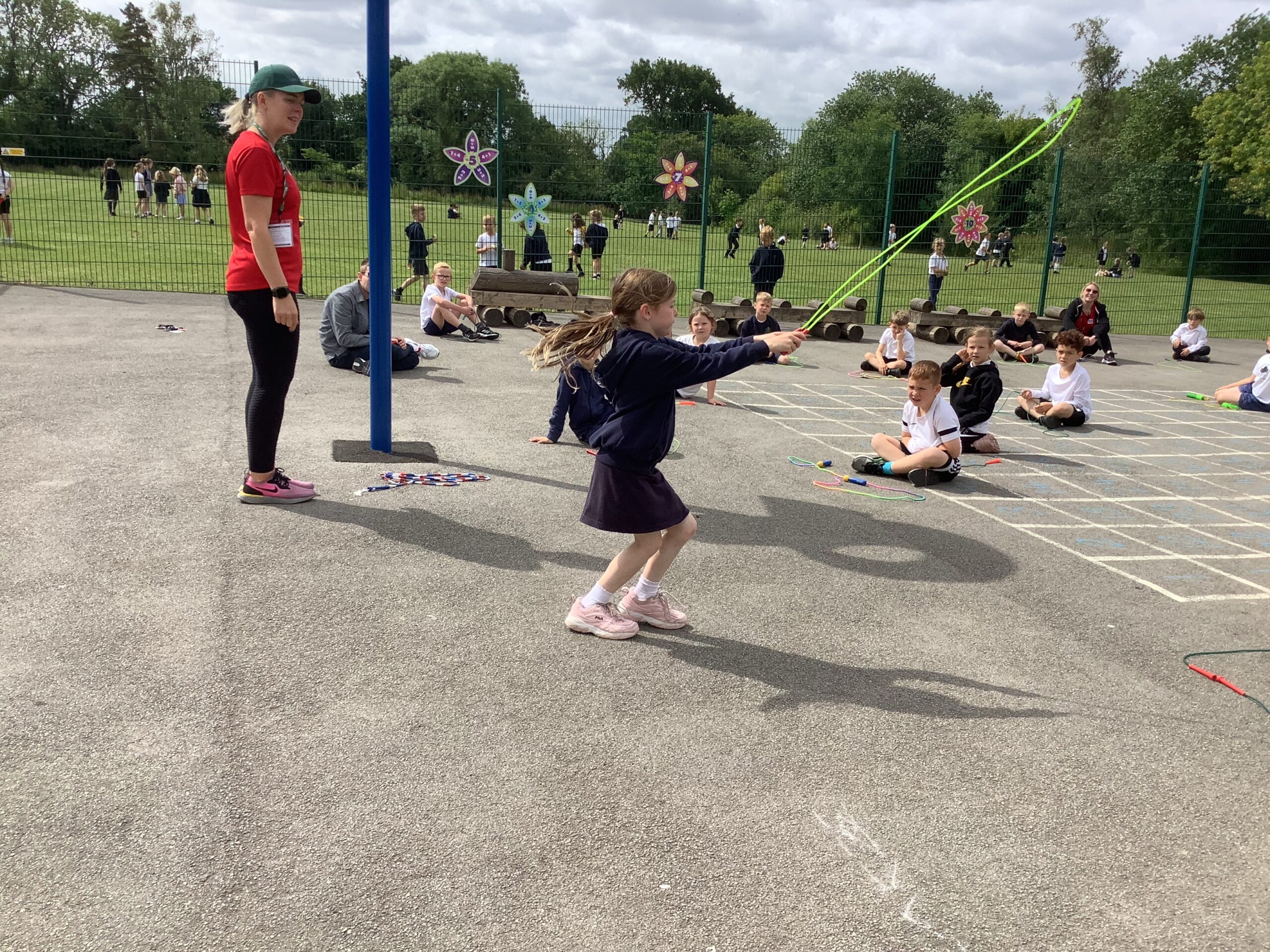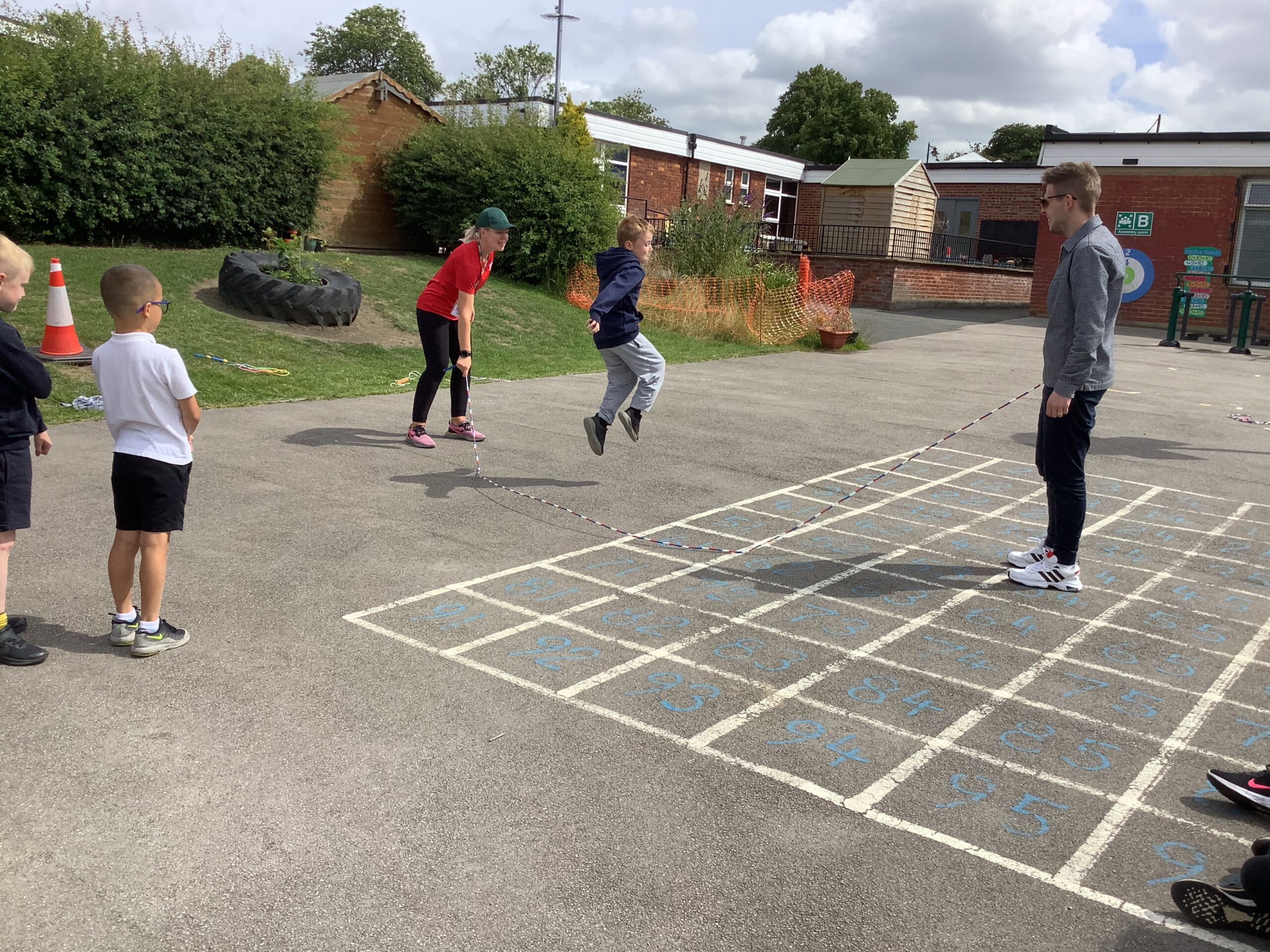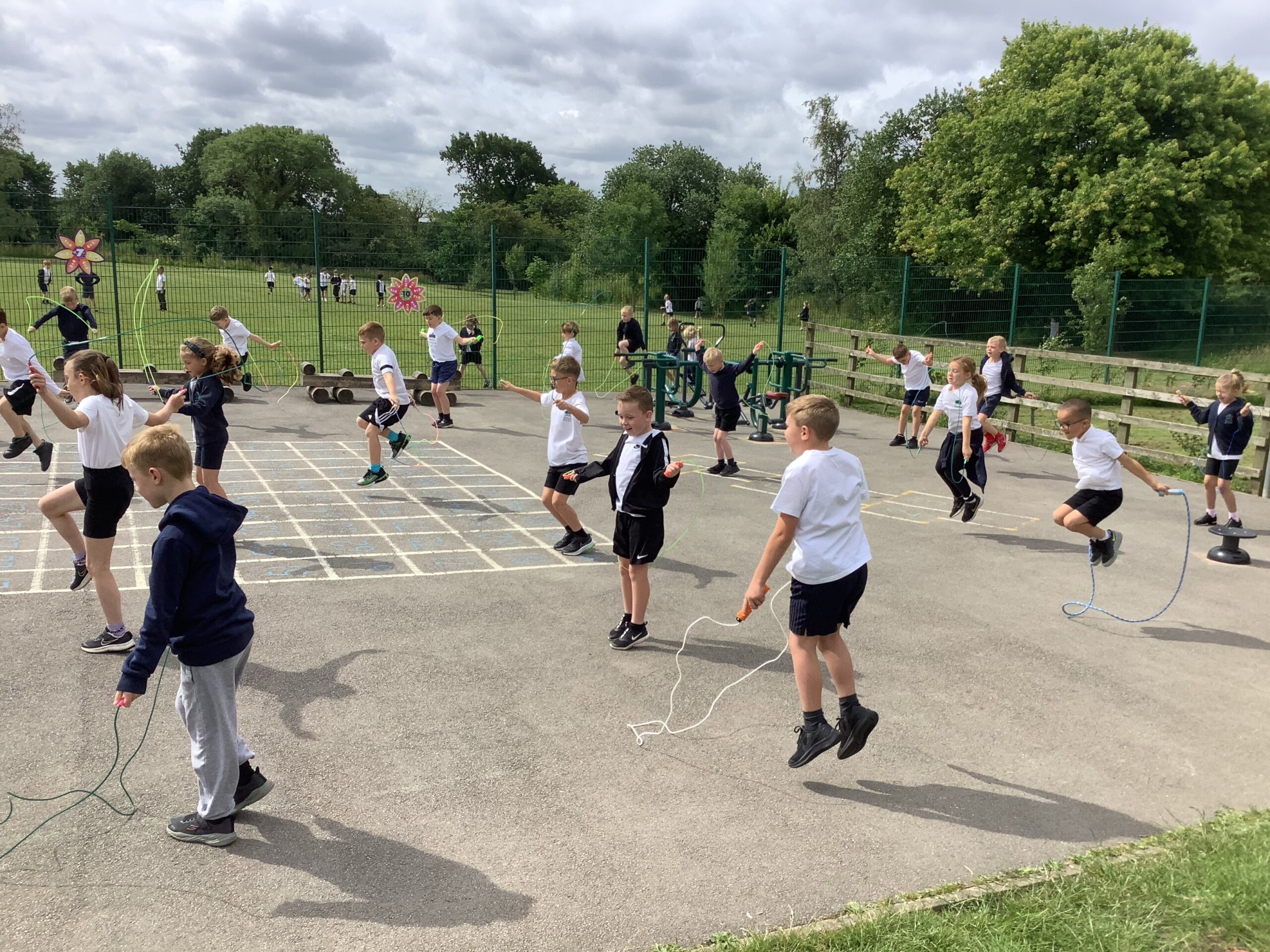 Clean up!
Our focus has been environmentally based owing to our book Clean Up! 
This book has helped us to think about how to look after our oceans, animals and earth. It has helped us to understand that we are responsible for our own litter. The children have extended their vocabulary through the use of: recycle, sanctuary, island and pollution.
Here are some insightful quotes from the children…
A sanctuary is a place where they take animals to be rescued.-Norah

An island is a big patch of land with sea and sand.-Stanley

When we find some rubbish, my Mummy picks it up and puts it in her pocket.-Leo

Take it home to put it in your bin.-Poppy

We need to take all the litter out to clean up the ocean.-Prisha

No-one wants to go to the beach with litter everywhere!-Sofia
We have been using tweezers to help collect litter from our 'sea' in the water tray. Here are some other brilliant ways we have enjoyed learning through our provision: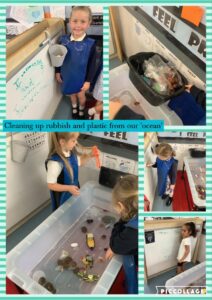 We are doing incredibly well with our learning and consolidation in Maths. We know so much about counting, doubles, odd and even numbers, one more/one less, the composition of numbers etc -we like to show off and have a go at everything during 'Challenge Time'!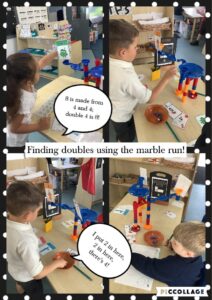 Thankyou for listening to your child read regularly and for adding comments to their reading records. We will check the online books to see which children have read the most times this half term…there will be prizes!
Other pics of our fun learning this week:
Home-Link
Please take a photograph of your child reading their e-book in their favourite spot at home. Send your pictures to our email address.
Triathlon – winning team announced!