Y2 Maths – adding 2 two-digit numbers
This week in Year 2 we are focussing our learning on adding two 2-digit numbers together. To start with, we are learning to add two 2-digit numbers together that are not across ten. After this, the focus will be on adding across a ten.
Step 1 – write out the equation.
Step 2 – draw base ten to illustrate how many tens and how many ones are present in each number. (Lines to represent 10s, circles or squares to represent 1s).
Step 3 – add the tens together.
Step 4 – add the ones together.
Step 5 – add the above together.
By breaking the addition down into small, manageable steps we are able to answer these difficult questions with ease.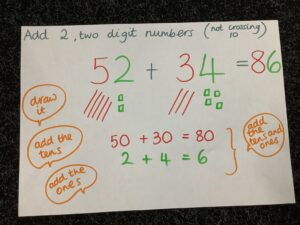 Here are some photographs of 2C in action! I am very impressed by how quickly the children are learning the process this week.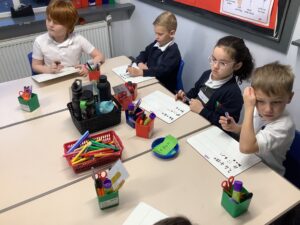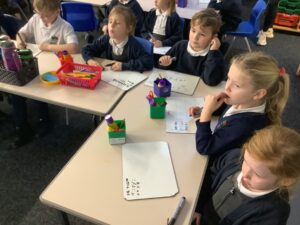 Help at home: by practicing these skills at home with your children. Use blank sheets of paper and ask children to talk through and show you their working out.
2C – making predictions
This half term, KS1 are reading 'Not Now, Bernard' by David McKee. Before reading the book, we had a good look at the front cover and made a few inferences based on the pictures. We had a discussion about what the book might be about before reading it. We used clues on the front cover to help us with this.
We then read the first part of the book. We stopped to predict what might happen next in the story and why. Here are some of our predictions.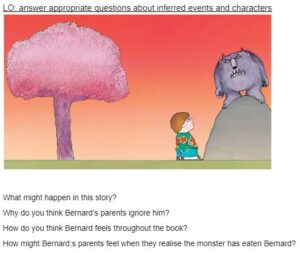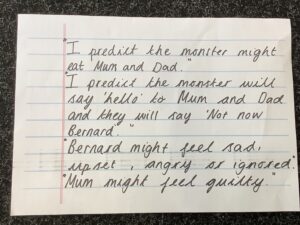 Whatever Next!
This week, we listened to another of Jill Murphy's stories about a family of bears, titled 'Whatever Next'.  It's about a little bear who went on an adventure to the moon. He used a cardboard box as a rocket, some wellies as his space boots and a colander for a space helmet. He packed some food and shot up the chimney into space. When he got there, he enjoyed a picnic with his friend owl.  What would you take into space with you?
In maths, we've been learning to compare quantities using language such as 'more than' and 'fewer than'. E.g. The blue plate has fewer cookies than the blue plate or I have more cookies than you.
It is easier to compare sets when there is a big difference in the number of objects. Children will do this by perceptually judging which has more. Just by looking, children will notice that Big Bear has more apples than Little Bear, and Little Bear has fewer apples than Big Bear.
Image source: NCETM.
Help at home: Try and use some of this language at home. Children are often familiar with the words 'more' and 'most' but don't often hear 'fewer/fewest'.  Who has the fewest bricks?  Do we have the same number of grapes?  Who has more beads?
Next week's learning: 
We look forward to reading 'Stickman' by Julia Donaldson in our story times next week.  If you don't have a copy of the book at home, you might enjoy watching the BBC animation together.
In maths, we're learning about length so will be using the words long, short, longer and shorter to compare different objects.
Nursery rhyme of the week – We'll be busy learning songs for our Christmas show, 'Santa's Hat' so please keep singing your favourite rhymes together at home.
Sound of the week – i for iguana
Reminders
Please return the Christmas slip to let us know if you can attend one of our 'Stay and Decorate' sessions in December. Please see the letter for more details of dates and times.
Remember to send your child's costume for the Christmas concert by Monday 11 December 2023 . Please NAME all items and put them in a NAMED bag. As you can imagine, changing lots of young children can be tricky; having items named and in a clearly named bag makes things much easier for us. Thank you.
3,4A, 3,4B and 3,4C Class News
Today across Y3/4, we had a virtual author visit via Zoom. We heard from Pippa Goodhart and Nick Sharratt as they talked about their new book, 'You Choose Christmas'. We then had a mini guided lesson on some Christmas illustrations from Nick Sharratt himself.
This afternoon, we all enjoyed sharing our Topic learning with parents and carers. It was great to see the children talking their adults through it and sharing what they knew. Thank you for all your support!
How to Catch a Star
Literacy
This week our focus story was How to Catch a Star.
In the writing area, the challenge was to think, draw and write ways we might catch a star.
We had lots of amazing ideas.
I would go in a helicopter.

I would jump on a kangaroo.

I'd go on a rollercoaster.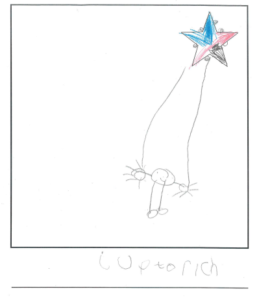 Maths
This week, we have built on our understanding of the composition of  numbers by investigating the composition of 3, 4 and 5.
We composed and de-composed numbers by investigating  the part, part, whole relations, e.g. seeing that 3 can be composed of 1 and 2.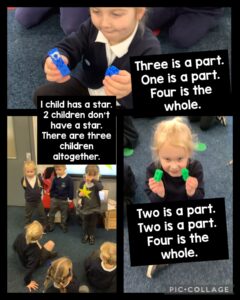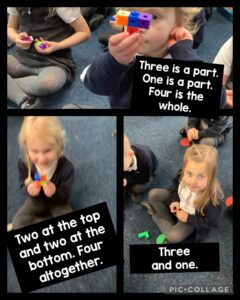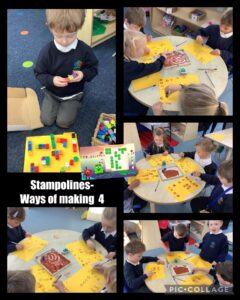 Poetry Picnic
Each week we will be learning a new poem. We will recite this poem each day. By saying the poem out loud, we can focus on the sounds and rhythm of each word or line. We talk to the children about how this can help us become better readers. This week's poem is called Mice.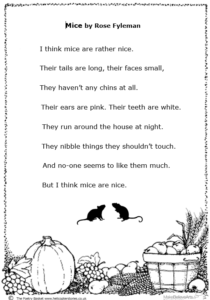 Click here to watch Reception recite this week's poem
Art
Over the past couple of weeks, we have been inspired by Monet's series of paintings, Houses of Parliament.
We created our own art work by using blocks to print shapes and make a building silhouette.
Then, we explored using water colours to create the sky. We thought carefully about how different colours can change the feeling of a painting and represent the sky during different weathers or times of the day.
Mine is bright 'cause it's sunny.

I'm going to make mine look foggy.

I'm using dark blue for a stormy sky.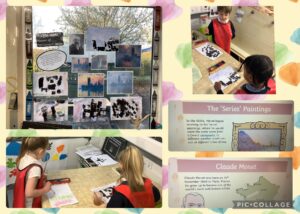 Help at Home
Spot some signs of winter.
You may choose to take photos, draw pictures or talk about what to find.
Dates 
Learning Journey Drop In's 
Tuesday 12 December and Thursday 14 December
An opportunity to "drop into" school and share your child's learning journal with them.
Times – 8.45 am-9.15am   and   3.15pm-3.45pm
Topic review
Thank you if you came along to our topic review session today. If you didn't make it, the quiz is here if you'd like to have a go at home!
You can always help at home by talking to your child about what they have learnt at school.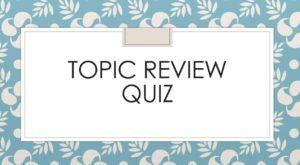 It's been freezing indoors and outdoors this week!
This week in Science, 2C had a fantastic time learning about freezing and melting. We are Chemists this half term and this week, we learnt about water.
We know that water is a liquid but when it reaches freezing point (0 degrees celsius), it turns into ice. Ice is a solid.
When ice heats up, it melts and turns into a liquid, water.
One of our experiments involved placing a cube of ice in our hands and watching it change state. The ice went from a solid to a liquid after some time.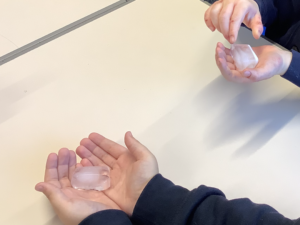 Our next experiment included trying to melt a block of ice containing a small toy. We used four different methods. We used a hairdryer, a hot water bottle, water and a towel.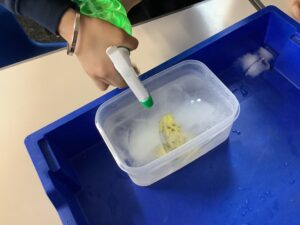 We found out that the hair dryer was most effective in melting the ice and freeing the toy because it produced the most heat. The towel took the longest because it emitted the least amount of heat.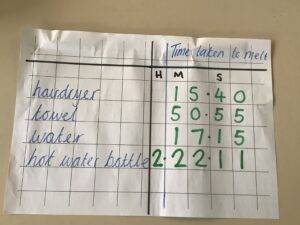 Help at home: by freezing and melting ice and discussing how the heat and cold help change the properties of water.
3,4C Class News
What a busy week of learning!
In addition to our usual lessons this week, we have had some exciting events taking place.
On Monday, we enjoyed a skipping session led by Skipping School. We learned some new skipping skills and had the chance to practise.
We have been busy getting ready for our class assembly which was a complete success yesterday. It was so good to see many adults coming to watch us – thank you and we hope you enjoyed it. A huge 'well done' to everyone in 3,4C – we were very proud of you.
This morning, we enjoyed an author and illustrator zoom with Pippa Goodhart and Nick Sharratt as they launched their new book 'You Choose Christmas'. It was entertaining and we had a go at drawing our own illustrations.
Please continue to help at home by reading regularly and accessing TT Rock Stars regularly with your child.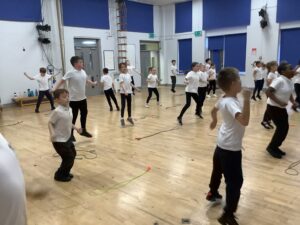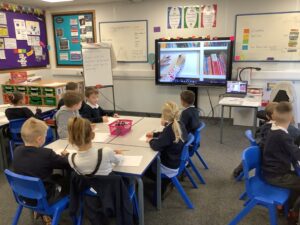 3,4A and 5,6C – Writing
Following Mr Lindsay's previous post, here are a few more pictures of the children sharing and editing their writing together.
In 3,4, we had written narratives and had focused on including expanded noun phrases, similes and prepositions.
Help at home by asking your child if they can tell you what these things mean! Can they give you any examples?
Art – creating printing plates
All the year 1 and 2 classes have been exploring line, pattern and shapes in our Arty Ideas books. Some of the inspiration has come from our visit to The Hepworth Wakefield and from looking at the work of Paul Klee.
We used pencils, pens and lots of other things around the classroom to make the marks on our polystyrene printing plates.