Living and Learning: Relationships education
In today's Living and Learning lesson, we talked about 'What makes a good friend?'. This lesson builds on pupils' learning from key stage one about special people and extends their leaning about their close networks and friendships.
We discussed these key points:
recognise the different types of friendships that are important to us (eg: family,  friends, groups we belong to, neighbours)
 explain why friendship and having friends is valuable
identify how friends show they care for and value each other
describe what is most important in a friendship
To read some examples of good friendships and we discussed the best friendship ideas. Taking feedback from the class, we  made a list on the whiteboard of all the different qualities that make a good friendship.
Here is what we said: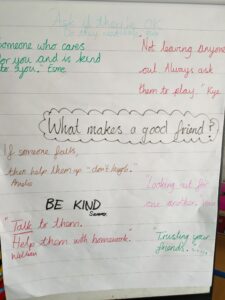 Clean up!
Our focus has been environmentally based owing to our book Clean Up! 
This book has helped us to think about how to look after our oceans, animals and earth. It has helped us to understand that we are responsible for our own litter. The children have extended their vocabulary through the use of: recycle, sanctuary, island and pollution.
Here are some insightful quotes from the children…
A sanctuary is a place where they take animals to be rescued.-Norah

An island is a big patch of land with sea and sand.-Stanley

When we find some rubbish, my Mummy picks it up and puts it in her pocket.-Leo

Take it home to put it in your bin.-Poppy

We need to take all the litter out to clean up the ocean.-Prisha

No-one wants to go to the beach with litter everywhere!-Sofia
We have been using tweezers to help collect litter from our 'sea' in the water tray. Here are some other brilliant ways we have enjoyed learning through our provision: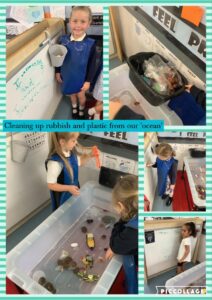 We are doing incredibly well with our learning and consolidation in Maths. We know so much about counting, doubles, odd and even numbers, one more/one less, the composition of numbers etc -we like to show off and have a go at everything during 'Challenge Time'!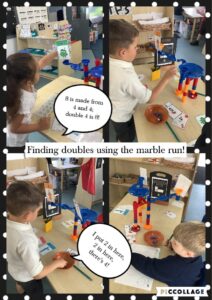 Thankyou for listening to your child read regularly and for adding comments to their reading records. We will check the online books to see which children have read the most times this half term…there will be prizes!
Other pics of our fun learning this week:
Home-Link
Please take a photograph of your child reading their e-book in their favourite spot at home. Send your pictures to our email address.
Living and learning : RSE
Our Living and learning lessons for the next few weeks are all about families and relationships. We have talked about how each of our families are different and are made up of different people and sometimes across different households too. Lots of children shared how many people were in their family and could talk about their special people.
Reading, writing, maths design technology and art!
Triathlon – winning team announced!
Living and learning: RSE
Year 5/6 have been enjoying our recent RSE learning – this is relationships and sex education. It's really important that during these sessions the children demonstrate maturity and a willingness to learn – they have definitely lived up to this expectation. The first couple of sessions focused on vocabulary – making sure the children understood the anatomical names for the body parts. This links well with their science learning also. We reminded the children about the NSPCC PANTS campaign that promotes the fact that privates are private, always remember your body belongs to you,  no means no, talk about things that might upset you and speak up, someone can help. The children have shown great respect and empathy during these sessions.
Commotion in the Ocean
This week, we have explored poetry using the book Commotion in the Ocean.
We used adjectives to describe the animals on the front cover.
small tails

little fish

a big whale

tiny starfish

long tentacles
We used the poems and our previous knowledge to write about different animals from the book.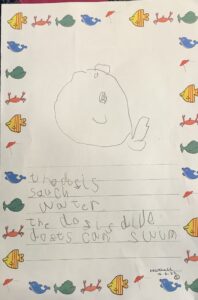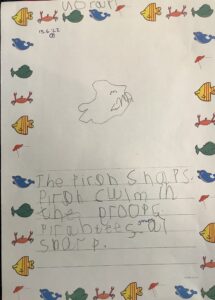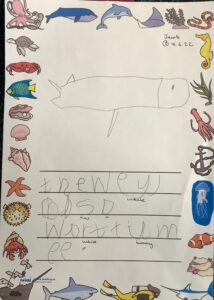 In maths, we have deepened our understanding of comparing quantities in different contexts.
comparing groups of objects
finding groups of equal amounts
finding one more/one less
In science, we created an egg experiment.
What will happen to an egg in vinegar? 
We put an egg in vinegar and an egg in water over five days to compare.
The egg in vinegar has no shell! Marshall

It has cracked. Clara

The one in water hasn't changed. Poppy
After 5 days in liquid, we took them out and noticed the egg that had been in vinegar felt rubbery… a bit like a bouncy ball.
We tested to see if the egg would bounce…
Check out our super learning around the classroom and outside.
Home Link
As we move into summer, we have been discussing ways to stay safe in the sun.
sun hat
drinking water
going in the shade
sun cream
Take some time to talk about different ways to keep safe in the sun.
You may choose to make a sun safely poster or list.
Vehicles
Our current 'transport' theme is very popular and has inspired lots of role play this week. We've been on bus and train rides and floated across the sea in our box boats!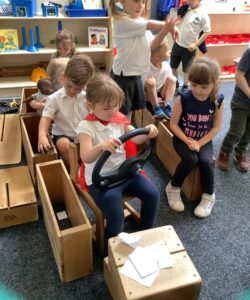 Children enjoyed having using the stencils in the mark making area. It was quite tricky to carefully trace the pen around the edge of the stencil, but they persevered.
In the book corner, we've listened to lots of stories about The Little Red Train and we looked closely at the detailed illustrations. We talked about the different places that the Duffy driver visited. Was it the city, countryside or seaside?  How did they know?
Outside, children made ramps for the cars, talked about visits to the fair in the small world fairground and made mud 'chocolate' cakes. Yum!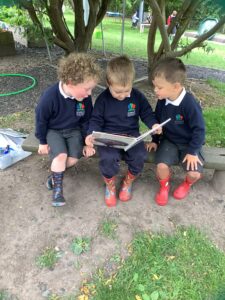 A highlight at the end of the week was most definitely watching children enjoy some very messy play!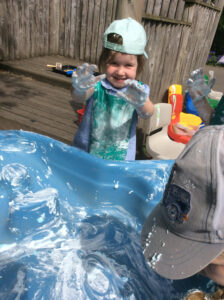 Triathlon
It was our opportunity to take part in the FOSP triathlon yesterday, on a very hot day! The children were split into three different teams – red, white and blue. Children that had brought bikes to school, cycled around the track, whilst others ran. The children competed to complete as many laps as possible. We will find out the winning team later in the week.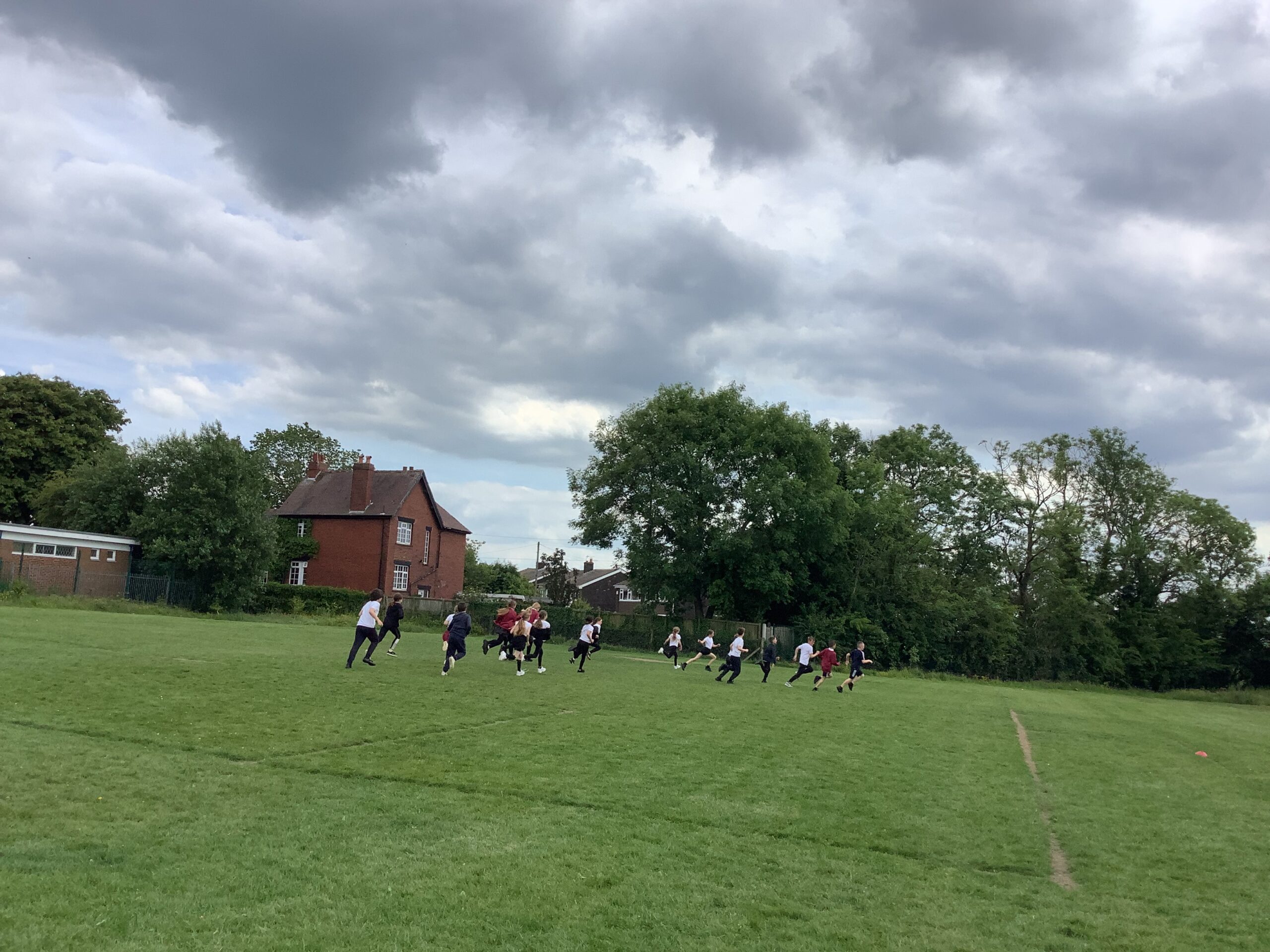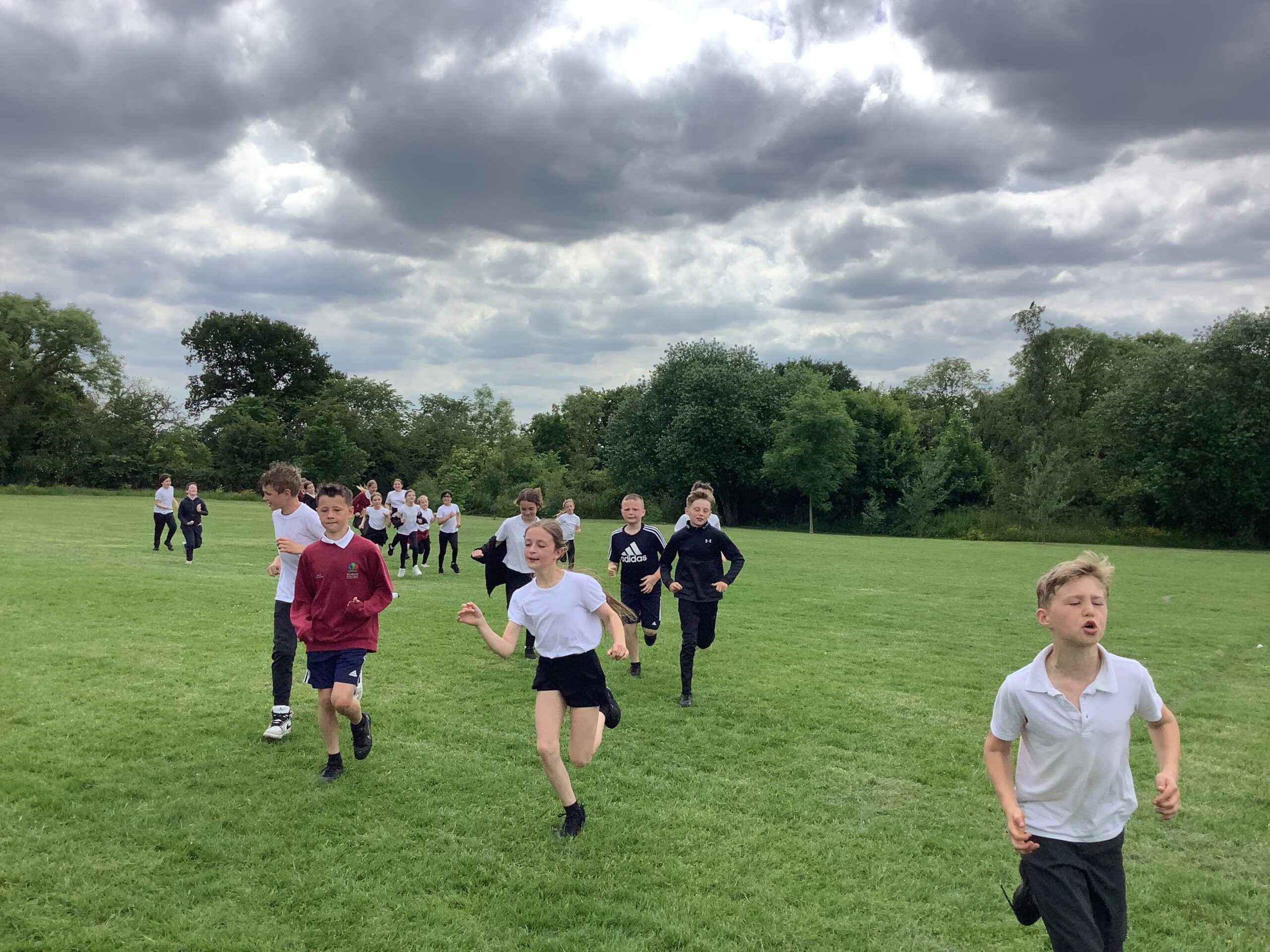 Super sewing!
We have been brushing up on our sewing skills today. As part of our design technology unit, we will be designing and sewing cushions.  Our first job was to master threading a needle and securing a knot at the end ready for stitching – this ensures the thread doesn't pull through the fabric. This took quite a long time and the children were excellent at helping each other. They watched a demonstration of how to do running stitch and back stitch and created their own stitching on binca. The children who took to this like a duck to water were able to challenge themselves by stitching a shape, a pattern or even their initials.