My body
We have finished our topic 'Life on Earth' by exploring human bodies.
Using Non Fiction books, we were able to share our known facts as well as learn new ones.
In writing, we wrote our facts.
Science
This week, we have explored how to keep our teeth healthy by using eggs and different liquids we might drink.
We started by putting toothpaste on half of each egg and then putting them in milk, water, cola, and fresh orange juice. When looking at the sugar content, the children were able to make sensible predictions as to which drink might be the healthiest for our teeth.
It's stained. (cola) Jack

On one side it's dark and one side it's light. (cola) Alyzah

It had too much sugar. (orange juice) Zachary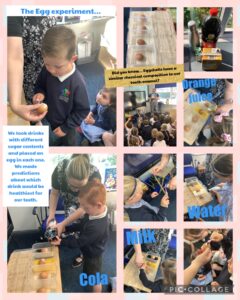 We also discussed the benefits of some of these drink for our whole body.
Milk is good for your bones and teeth. Ellie

Milk has calcium. Keira
Maths
We have continued to develop our subitising skills using familiar images and objects while introducing a new piece of equipment (Rekenrek) that allows us to explore the structure of small numbers and deepen our number sense.
Butterflies
Everyone was very excited to see the newly hatched butterflies on Monday morning. Throughout the week, the children have observed them closely and looked at the details on their wings and bodies.
On Thursday, it was time to release them outside. It was wonderful to watch them fly around our garden and even on one of the children!
Poetry Picnic
Each week we will be learning a new poem. We will recite this poem each day. By saying the poem out loud, we can focus on the sounds and rhythm of each word or line. We talk to the children about how this can help us become better readers. This week's poem is called Monkey Babies.
We talk about how a poem sometimes has rhyming words and sometimes doesn't. Can your child tell you the rhyming words in this week's poem? We also talk about how a poem can have a fast rhythm or a slow rhythm.
PE; Foot-Tech Academy 
A big thank you to Food-Tech Academy for the donation of new balls. We can't wait to use them to develop our skills next half term!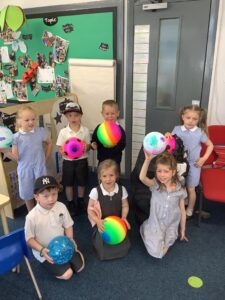 Click here to see Rainbow class enjoying using the new balls.
Reminders
Sun cream – Now that it's hot, please remember to bring in a labelled sun cream.  As your child will need to independently apply their sunscreen, please practise this at home.
Swimming
Rainbow -7 June, 21 June, 5 July, 19 July
Sunshine – 14 June, 28 June, 12 July
Living and Learning-Physical Health
3,4 have been thinking about the importance of our physical health and how this impacts our mental health too. We discussed how exercise can improve our mood and physical strength. It turns out that we are an active bunch and participate in lots of  physical activity throughout the week. In school, we have lots of opportunities to get our heart rate pumping. We enjoy our daily WUSU sessions, daily mile, active play times and PE sessions. What healthy habits can you adopt at home to make sure you are participating in '60 active minutes' per day?
Here are 3.4 B enjoying their tennis session.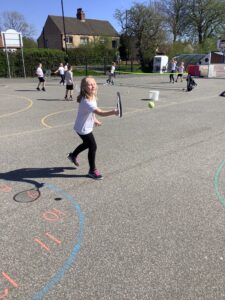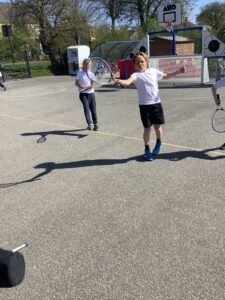 Topic-Heroes
Our topic this half term has been heroes. We have been looking at two in particular-Nelson Mandela and Leonora Cohen.
The children have learnt about their lives and beliefs.
They have been using vocabularly such as apartheid and suffragette to describe what these two historic people stood up for and the difference they made to others.
The children have enjoyed dressing up as real life heroes and sharing why they are real life heroes.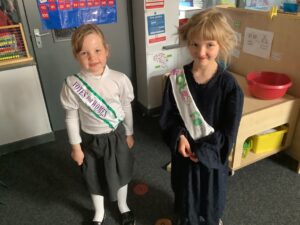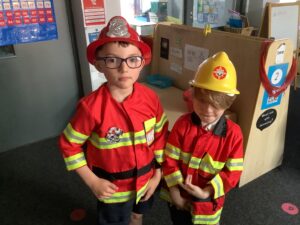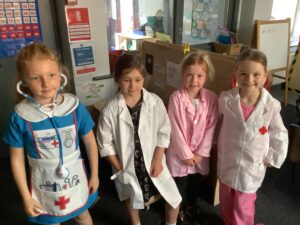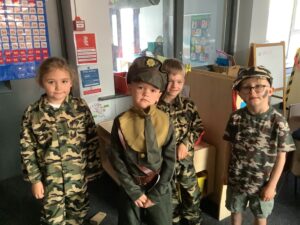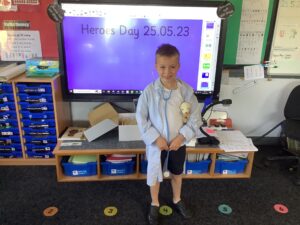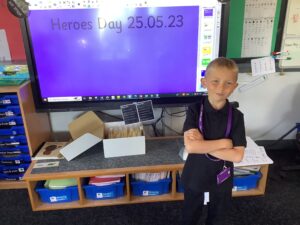 Living and learning: I know the importance of 60 active minutes
Our PE lessons have had a specific focus on being active for the whole of the 60 minutes. This week,  we have played some fast-moving warm-up games that have got our hearts racing and made us out of breath straight away. We played games using the skills of basketball in which we had to score points, defend and attack. The children improved their communication within their team to make them more efficient.
Help at home: How active are you at home? Could you do more exercise? Now the weather has improved, could you be more active? Go for a walk in the evening, a bike ride or even visit a local playground. Enjoy the fresh air!
Class news 3,4C
What an exciting couple of weeks!
Last week, we had a zoom chat with local author, Tom Palmer. He shared his top tips for writing stories and impressed us all with the number of books he has written and the number of awards he has won. We are reading one of his books, 'Loidis, Ledes, Leeds', in class at the moment. At home, keep regularly reading a range of texts to collect ideas for writing.
This week, the children all joined in a Bamboo Tamboo workshop, exploring the music from Trinidad and Tobago. It was great fun; the children had to listen very carefully and follow the beat.
In writing, the children have been working hard to develop their editing skills, helping each other to spot and correct errors.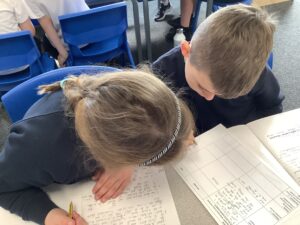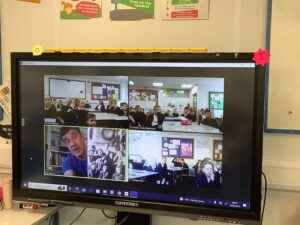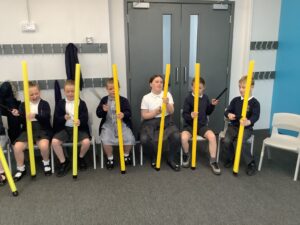 Maths – fractions
This week in 2C we have been securing our knowledge of fractions.  We have been looking at fractions of shapes and of amounts including one and two-digit numbers.
The fractions we have been learning about are halves (two equal parts), thirds (three equal parts) and quarters (four equal parts).
In order to find fractions of a number, we used paper plates and counters and divided them up into equal parts.
Help at home: think about where you can find fractions in the home. Why not use pizza or cake and cut them into slices to find fractions?
Pyramids and Prisms
Year 6 have been exploring the properties of pyramids and prisms.
At home, can you find some everyday items that are made from pyramids and prisms? Discuss patterns and relationships between the number of faces, vertices and edges.
Author visit: Emma Carroll
Year 5/6 across Sphere Federation enjoyed a Zoom call from author Emma Carroll this week. We chose two of her books for our class novels this year: Secrets of a Sun King and Letters from a Lighthouse.
We were treated to a tour of her writing room learned about her daily schedule. We asked questions about her process and found out about some of the earlier drafts of her books.
Living and Learning – 60 minutes of daily exercise
This week's Living and Learning statement is, 'I know the importance of 60 active minutes'.
In KS1 we have been discussing the importance of exercise and how we need to keep active to keep our bodies healthy. The NHS guidance states that children and young people should  'aim for an average of at least 60 minutes of moderate or vigorous intensity physical activity a day across the week'. We know that the exercise we need to do to achieve this, should increase our heart rate.
At school we provide opportunities for at least 30 minutes of exercise per day. Some of these include:
Daily WUSU
2 weekly PE sessions (including swimming)
Play times x2
Lunch time play
Go Noodle, Just Dance and Supermovers in class
After school clubs
Help at home – GoNoodle and Supermovers are both educational, active resources that are available for free online. Walking to school (where possible) will also help towards achieving active minutes.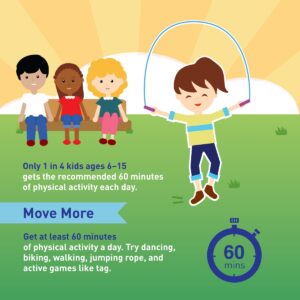 Carnival Music Workshop
Today, children across Year 3,4 enjoyed a music workshop on  'Tamboo Bamboo' with Leeds for Learning (ArtForms Music) in conjunction with our Topic learning about Carnival. Tamboo Bamboo originates from the carnival traditions of The West Indies (specifically, Trinidad & Tobago) and is a percussion instrument. Here are some photos of 3,4A enjoying the session.