3,4A, 3,4B and 3,4C Class News
Today across Y3/4, we had a virtual author visit via Zoom. We heard from Pippa Goodhart and Nick Sharratt as they talked about their new book, 'You Choose Christmas'. We then had a mini guided lesson on some Christmas illustrations from Nick Sharratt himself.
This afternoon, we all enjoyed sharing our Topic learning with parents and carers. It was great to see the children talking their adults through it and sharing what they knew. Thank you for all your support!
3,4C Class News
What a busy week of learning!
In addition to our usual lessons this week, we have had some exciting events taking place.
On Monday, we enjoyed a skipping session led by Skipping School. We learned some new skipping skills and had the chance to practise.
We have been busy getting ready for our class assembly which was a complete success yesterday. It was so good to see many adults coming to watch us – thank you and we hope you enjoyed it. A huge 'well done' to everyone in 3,4C – we were very proud of you.
This morning, we enjoyed an author and illustrator zoom with Pippa Goodhart and Nick Sharratt as they launched their new book 'You Choose Christmas'. It was entertaining and we had a go at drawing our own illustrations.
Please continue to help at home by reading regularly and accessing TT Rock Stars regularly with your child.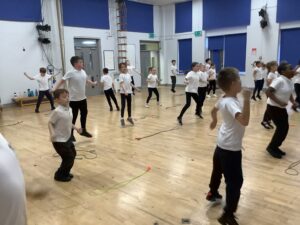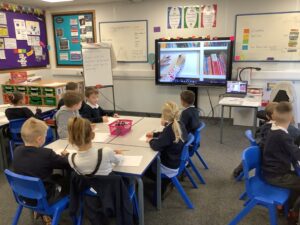 3,4A and 5,6C – Writing
Following Mr Lindsay's previous post, here are a few more pictures of the children sharing and editing their writing together.
In 3,4, we had written narratives and had focused on including expanded noun phrases, similes and prepositions.
Help at home by asking your child if they can tell you what these things mean! Can they give you any examples?
Shared writing 56C and 34A
Year 5/6C had the pleasure of sharing their writing with Year 3/4A. Children picked out improvements that they noticed:
use of fronted adverbials
a range of ambitious vocabulary
some figurative language
3,4B Class News
A very busy week in 3,4b this week as we have been preparing for our class assembly. The children all worked really hard and we spent time working on projecting our voice and using intonation and tone when speaking. The children all had great ideas of how to showcase all of the learning that has taken place since September and it was lovely to see so many adults in the audience.
Alongside this, we have been enjoying learning about our two artists for this half term – Wassily Kandinsky and Martha McDonald Napaltjarri.  We explored Kandinsky's 'Concentric circles' and created our own versions with an emphasis on using complimentary colours.
In Science we have investigated different types of rocks. We used scientific vocabulary to describe them and then identified similarities and differences between them.
Help at home by regularly listening to your child read and discussing it with them.
Thank you for your continued support!
Children in Need
A huge thank you to everyone that donated money last Friday for Children in Need. The Junior Leadership Team were out in the playground with collection buckets before and after school – they did a great job! We managed to raise a whopping £436.98 in total. Thank you so much!
Penny Trail – Cancer Research collection
Thank you to everyone who donated to
last week's penny trail in aid of Cancer Research.
In total, we raised 
£99.32!
An amazing amount made from mainly 1p and 2p coins.
Thank you!
Living & Learning – Anti-Bullying Week
Anti-Bullying Week 2023 is coordinated in England, Wales and Northern Ireland by the Anti-Bullying Alliance. This year it has the theme 'Make A Noise About Bullying' and took place from Monday 13th to Friday 17th November. The week kicked off with Odd Socks Day on Monday 13th November, where adults and children wore odd socks to celebrate what makes us all unique.
The theme this year was 'Make A Noise About Bullying' and came about following consultation with teachers and pupils by the Anti-Bullying Alliance . Teachers and children wanted a theme that empowered them to do something positive to counter the harm and hurt that bullying causes.
On Monday afternoon we came off our usual timetable to learn about what bullying is, the effects of bullying and how we can put a stop to it. We are really clear on the acronyms for bullying below:
What is bullying –
Several
Times
On
Purpose
How can we stop bullying –
Start
Telling
Other
People
At home you could ask your child if they can tell you the two acronyms for bullying and what they are!
Year 3,4 Living and Learning Money Week
Me and My Money Week
This week we have been learning all about money! The staff have been truly impressed by the mature discussions the children have engaged in about:
making spending choice based on priorities, needs and wants
developing an awareness of the price of some everyday products
the different types of coins, their value and how to count money
different methods of payment
different types of bank accounts
that sometimes people borrow money
that sometimes people donate to charity and why they might decide to
the range of jobs available – paid and unpaid
the themes in the book 'It's a no-money day'
Well done year 3,4. At home, tell your adults what you have been learning.
Key Stage 2 Coin Trail
Thank you to everyone who donated money towards the penny trail to raise funds for Cancer Research UK. The Key Stage 2 classes had a lot of fun as you can tell from the pictures. We are still counting the money raised so we will let you know the grand total next week!
THANK YOU!