3, 2, 1 DODGEBALL!
Posted on 19 October 2019 by Mrs Latham
Well done to the Year 5 dodgeball team, managed by Mr Gledhill, who came third in the East Leeds heats this week. They were fiercely competitive and showed a real team work spirit. Lots of the photos are blurred because they were running around so fast!
Year 1 Bikeability - success!
Posted on 19 October 2019 by Mrs Latham
The Year 1 children have had some balance bike and then pedal bike training (with no stabilisers) this week, deliverd by the Leeds Bikeability Team. By the end of the week 38 out of 45 children (a whopping 84% ) can now ride their bikes! Everyone worked really hard; persevering, showing resilience and determination. Well done – we are very proud of you!
Keeping Active - cross country running
Posted on 15 October 2019 by Mrs Latham
Well done to the Year 6 children who decided to enter the cross country competition for our area at Brigshaw High School last week. They represented school brilliantly. It was cold, wet and windy but they persevered, were determined and were so proud of their achievements. One of the girls teams came fourth and qualified for the Leeds city finals in February – amazing!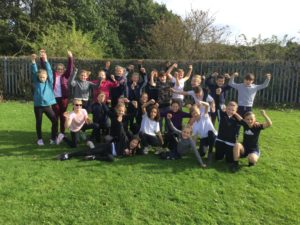 Ridiculous rhymes
Posted on 07 October 2019 by Mr Roundtree
We're very excited to welcome the CBeebies Rhyme Rocket team to Scholes (Elmet) Primary School on Tuesday 15 October.
They'll kick start their visit with a whole-school show: The Ridiculous Rhyme Show. After that, for children in Y5 and Y6, they'll lead on a TV workshop, where older children can find out more about what it's like to work in the media world.
Read more about the performance and workshop.
Please support this exciting trip. We ask you make a voluntary contribution of £2.50 minimum for the show.
Fab feedback
Posted on 13 September 2019 by Mr Roundtree
Thanks very much if you came along to this week's information evenings for Y5 (Tuesday evening) and for Y1 (Thursday) – we had a good turn-out of parents/carers, keen to know more about their child's learning journey in school and how to support at home.
Thanks also for leaving us with some feedback – teachers really do appreciate this…
Year 5
'Good idea having the Y5 evening. Very informative. Glad I went to find out exactly how and what will be taught'
'Particularly liked the reference to the different books and types of homework to be expected. Opportunity to meet teachers and ask questions is great.'
'Curriculum relating to e-safety is great and impressed with the information available on the school website.'
Year 1
'Great to learn about what the children will be doing and helping [my child] at the right level.'
'Good to have the context of the topics.'
Make sure you look out for more information evenings coming up.
Year 3 /4 - You're amazing
Posted on 12 September 2019 by Miss Hague
Yesterday our Year 3 /4 classes went to Go-Ape at Temple Newsam.  Everyone had a great time and were certainly full of exciting stories when they came back!
Last night, we received an email from Go-Ape to complement us on our children.  They described them as the most polite, well mannered and enthusiastic school they had ever had on the course!
Well done Y3/4, we couldn't be more proud of you.
Homework policy update
Posted on 12 September 2019 by Mr Roundtree
Each year in the annual survey of parents and carers, we ask what you like most about our school and what you think we might be able to improve. We always get lots more people telling us things they like – thank you for this! We do also welcome your suggestions for improvements – whilst we can't always act on all the suggestions, we do always read and consider them.
One area that comes up every year is homework. Some of you want more, some of you want less. Some of you like the Creative homework, some of you thinks it takes too much time.
This year, we've listened to what you tell us and thought about ways we think we can improve:
We've reminded teachers to make sure homework is purposeful.
We've reviewed the guidelines as to how long we recommend your child spends on their homework – the new guide is no more than 30-40 minutes, which includes for Creative homework.
We've reflected on the amount of the three different types of homework (Talk Time, Creative and Practice makes Perfect) so there's hopefully a better balance to suit more pupils (and parents).
We hope the new changes will mean continued happy and healthy learning at home as well as at school. Read the policy and download a Homework Guide.
Scholes Tennis Club Table Top Sale
Posted on 10 September 2019 by Mrs Latham
Please come along to grab a bargain and support Scholes Tennis Club. Contact Kirsty to reserve a table.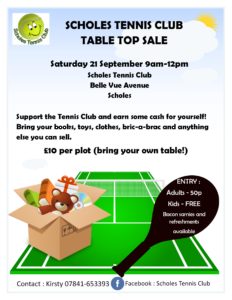 ALDI sticker collection
Posted on 06 September 2019 by Mrs Latham
Aldi have launched a sticker collection scheme that we are hoping to benefit from. Please bring any stickers you collect into school. There is a collection bucket in the entrance. Thank you.
Living and learning
Posted on 06 September 2019 by Mr Roundtree
As we return to school, we begin our Living and Learning theme with a focus on manners: I can greet someone politely.
We'll then continue by thinking about the '8 Rs for learning'. This theme is about promoting good learning behaviour for your child.
Each week, we'll focus on two different 'Rs'. We use an animal to symbolise each 'R', which might help your child remember all eight – can your child remember which animal matches the correct 'R'?
You can support your child at home – we've listed a few ideas to help you below. Ask us if you've any questions or comments.
Download top tips for promoting the 8Rs for good learning behaviour.
I can show I am ready to learn.
Make sure your child is at school for a prompt start of 08:50.
Make sure your child has had plenty of sleep so they are alert and ready to learn at all times.
Encourage your child to ask lots of questions – that shows they want to learn!
I respond to feedback.
Ask your child if they remember their 'stars' and 'steps' in English and Maths.
I take a safe risk.
Talk about the difference between a safe and unsafe risk.  At school, we want your child to take a safe risk by having a go at answering, even if unsure; trying something new and attempting harder learning.
I take responsibility for my own learning.
Provide time and space at home so your child is able to organise themselves: their PE kit, reading book, homework, spellings and tables… Don't organise everything for them!
Make a link between rights and responsibilities: your child has the right to a great education, but needs to be responsible for their own learning.
I am resourceful.
Encourage your child to be organised so they can play with a range of different toys.
Encourage your child to try new ways to solve a tricky problem.
I am resilient.
Encourage your child to keep going! Set a tricky challenge or puzzle for your child to do.
Encourage your child to think of different ways of doing things.
Don't let your child win when they play a game – they need to experience losing, too!
Celebrate mistakes as opportunities to learn – be happy that your child found some learning hard and encourage them to 'bounce back' and learn from the experience.
I remember.
Make sure they have time to learn spellings, number bonds and times tables – a little practice daily is best.
Play memory games:
Kim's game: show them objects for 30 seconds… can they remember all the objects?
Can they build up the sequence, 'I went to the shop and I bought an apple'… 'I went to the shop and I bought an apple and a bike.'… 'I went to the shop and I bought an apple, a bike and a cucumber.' etc … Take turns!
I reflect about my learning.
Talk with your child about what they've learnt, asking questions about:
how they learnt
why they learnt it
when they'll use their learning
how they would teach this to someone else
what learning might link with what they've learnt today etc
As well as covering the 8Rs for learning, pupils will also learn about their rights and responsibilities.
Finally, we end the half term learning about democracy (one of the British Values).  All children have the opportunity to experience democracy in our annual School Council elections.  More details to follow.
Our full Living and Learning long term plan is available on the health pages and you can keep up to date with our weekly Living and Learning statements on the parent noticeboard in the playground and also on the school calendar.