Pupil power
Posted on 26 June 2018 by Miss Parling
Year 5 and 6 School Councillors have had a fabulous day attending the Youth Voice Summit at the Leeds Civic Hall. The purpose of the day was to learn what a campaign was and how to implement one within school.
During the day, we created a campaign – IF THE SEA CAN'T PROTEST, WE WILL! The campaign was all about using less plastic.
We made our own placards and shared our campaign aims with School Councillors from other schools. We even met the Lord Mayor and learned how the 99 council members of Leeds vote.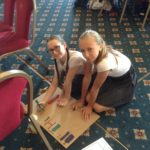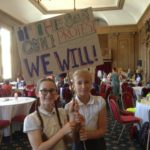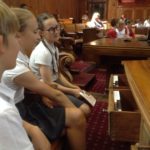 It was fun quizzing the Lord Mayor.

I really liked going into the council chambers.
Our Grand Library Opening!
Posted on 26 June 2018 by Miss Hague
Our new library is opening on Thursday 28th June.
Conrad Burdekin (local author and poet) will be in school on Thursday,  working with the children to create some poetry of their own.  He has kindly agreed to 'officially' open our library at the end of the day with School Council (and guests) present.
At 3.30, we are opening the library for you to view.  Please feel free to come along and see how amazing our library looks.  There will be the opportunity to meet Conrad and, if you wish, buy one of his poetry books.  The children have been reading them this week and have found them very funny!
Well done, Charlotte!
Posted on 20 June 2018 by Mr Roundtree
It's great to see this by Leeds Civic Hall – great design, Charlotte!
(Bit of a shame about the dodgy grammar and spelling…)
Scholes Tennis Club - coaching sessions
Posted on 19 June 2018 by Mrs Latham
A message from Dwight Brown, tennis coach …
Our newly launched fortnightly coaching session is back 
tomorrow
 (
Wednesday
 20th June) evening… all welcome!
Junior players (Under 14yrs) 
5:30 – 6:30pm
Full Ball & Adults (15yrs+) 
6:30 – 8.00pm
Technical and tactical play on the evening.
Rackets available. 
Costs


Junior Session – Members £2.50, Non Members £5
Full Ball Session – Members FREE Non Members £5
Hope to see you there!
Any questions – just email lenworth.b@hotmail.co.uk or text 07715 627159
Hope to see you there!
Library competition - please vote!
Posted on 18 June 2018 by Mrs Latham
Please vote for Scholes Elmet Primary in the National Book Tokens Competition!

Green fingers? Help needed!
Posted on 13 June 2018 by Mrs Latham
Scholes in Bloom judging day is Monday 6 August this year. If you are available and would like to join the effort for gold, please come and collect a plant from Mrs Myers or Mrs Latham. All you need to do is look after it and meet us at the flower bed outside school on judging day at 10am. If you prefer, you could make a 'scarecrow' and bring it on the same day. The theme is 'all creatures great and small'. Hope to see you there!
Pupil Voice - Friendship Benches
Posted on 13 June 2018 by Miss Parling
School Council had a really tough time deciding which designs would be used to decorate our friendship benches.
There were some lovely messages and creative ideas used to make these benches feel a positive and inviting place to be.
These are the chosen designs.
I love the message – friends are like rainbows they brighten your day.

I think the colours will brighten up our playground.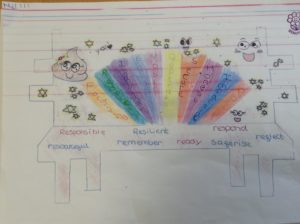 It has a happy vibe.

It has nice vocabulary on it.
Scholes Gala - skippers and dancers
Posted on 11 June 2018 by Mrs Latham
Thank you to our Y4 Skipping Crew and the Y1, Y2 and Y6 WUSU Crews who represented school so brilliantly at Scholes village gala.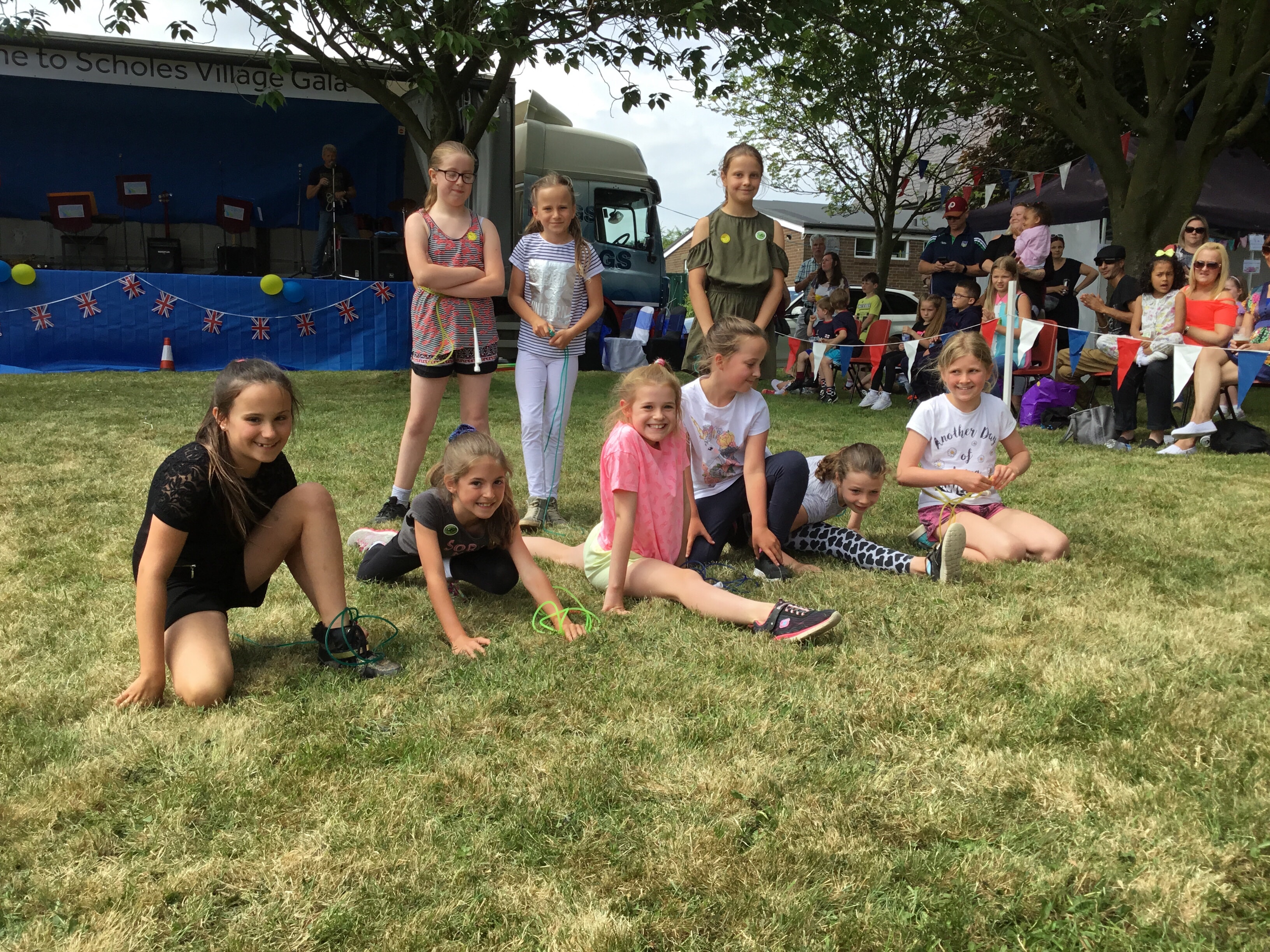 Terrific Triathlon - fancy another go?
Posted on 10 June 2018 by Mrs Latham
The Year 5 children experienced a competitive triathlon last month when they took part in the Brownlee Triathlon event at John Smeaton Sports Centre. They reported back that it was challenging and that they had to draw upon their Living and Learning skills – particularly risk-taking and resilience. The professional photos have just arrived and are brilliant. If you fancy trying more, there are details of sessions below or visit  https://www.thebrownleefoundation.org/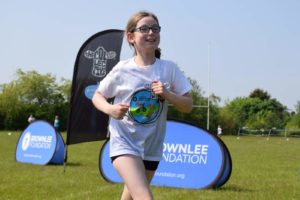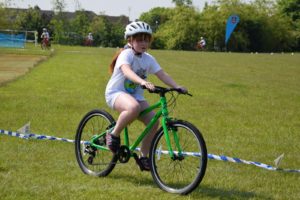 Scholes Village Gala - Saturday 09 June
Posted on 08 June 2018 by Mrs Quirk
Come along to Scholes Village Gala, Saturday 09 June, St Philip's Church Grounds.
You will find stalls, entertainment and refreshments. It will be a fun packed afternoon for all the family!
The Gala helps raise greatly needed funds for the general maintenance and operating costs of Scholes Village Hall – a venue available to hire.
Gala timetable:
12.15 pm – Gala King and Gala Queen tour the village with Beefeaters and Attendants (see below for route)
12.30 pm – gates open
1.00 pm – crowning of the Gala King and Gala Queen and speech by the Guest of Honour.
Presentation of competition winners sponsored by W H Brown Estate Agents, Crossgates.
1.20 pm – Boston Spa School Band
1.35 pm – Scholes (Elmet) Primary School wake up/shake up crew
2.05 pm – Boston Spa School Band
2.20 pm – Dance Floor 54
2.35 pm – Scholes (Elmet) Primary School Year 4 skipping crew
2.40 pm – family fun ~ win some freebies
2.55 pm – best dressed stall
3.00 pm – Dance Floor 54
3.15 pm – raffle drawn
3.30 pm – Boston Spa School Band
Gawthorpe Junior Brass Band will also be playing inside the Church, at 1.15 pm and 2.35 pm
The Gala closes at 4.00 pm.
Refreshments will be served throughout the afternoon inside the Church. There will be a BBQ and bar outside.
Stalls attending:
Pocket Money Corner ~Scratch Art Crafts ~ Scholes in Bloom ~ Relax Kids ~ Owl Experience ~ Splat the Rat ~ 5 Star Sports ~ Fun Fair ~ Hook a Duck ~ Inflatables ~Ice Cream ~ Plants ~ Archery ~ WI Cakes ~ Balloons ~ Costco ~ Explorer Scouts ~ Scholes Countryside & Wildlife Preservation ~ John Smeaton Leisure Centre ~ Books/ DVDS ~ Eye Tech Security Solutions ~ British Legion ~ Players Bottle Tombola ~ Leeds Honey ~ Special Occasion Cards and Gifts ~ Refreshments ~ Elmet Greenway ~ Yoga ~ Elmet Elderberries ~ Parish Council ~ Natural Living ~ Nearly New Stall and Cards.
Gate raffle prizes kindly donated by:
Leeds Rhinos ~ Flutterbabies ~ The Buffers ~ Storm Hairdressers ~ Coop Kippax ~ Skin Divers ~ Scholes Sewing Ladies ~ 5 Star Sports ~ Village Players ~ Chris Barlow Honey ~ City of Leeds Pipe Band ~ Thorpe Park Hotel ~ Eye Tech Security Solutions ~ Langlands Garden Centre ~ Garforth Golf Club ~Rhythm Time Music Classes ~Yoga Soul ~ Tony Biscombe ~ John Smeaton Leisure Centre.
Procession route for Gala King, Gala Queen, Beefeaters and Attendants:
12.15 pm – depart from Church layby.
Main Street, Belle Vue Estate, Belle Vue Road, Belle Vue Avenue, Rakehill Road, The Approach, The Avenue, Nook Road (turn around), The Avenue,  Arthursdale Drive, Arthursdale Grange, The Approach, Rakehill Road,  Station Road, Milton Drive, Belle Vue Avenue, Lyndhurst Road, Station Road ~ Elmete Avenue, Belle Vue Avenue, Belle Vue Road, Oaklea Road, Station Road, Main Street, around Coronation Tree.
12.45 pm (approx) – return to Church layby.