Amazingly atmospheric writing
Posted on 31 January 2018 by Mr Roundtree
One of the Year 5 and Year 6 learning objectives is to develop the skills of using other writing as a model for their own writing. This isn't simply copying another writer; instead, it's using their work as inspiration, a model, for their own ideas and style (a bit like J K Rowling being inspired, perhaps, by a writer such as Ursula K Le Guin, who also wrote about a wizarding school).
Here, two Year 6 pupils – Reece Morley and Jacob Rayner – have done just that, with great results. The original text was the wonderful The Nowhere Emporium by Ross McKenzie. Their writing is reproduced here (with just a couple of spellings corrected). Enjoy!
The shop was made of midnight black stone, embedded in little specks of silver and gold. The iron gate sat there in front of the grand oak door, guarding the entrance like a soldier. It had wooden beams which reached sky high which loomed ominously over the dusty street. Although the giant beams and the great gate looked quite foreboding, there was something calming and also quite mesmerising about the strange building. Just above a black, tinted, barred window were some letters that spelled out the name: The Midnight Mall.

Inside it seemed almost completely normal. The darkness ate at the light in the corners but that was all. Or at least it seemed like that was all. But if you focused a bit more you'd notice a green aura of light around all of the objects. The walls had cracks in them, the plants whacked each other with their branches even though the air was still. Small and very distant screeches could be heard if you stayed quiet. The place seemed quite intriguing yet kind of scary all at the same time, if you notice all those things. The shop with all this stuff that is quite mysterious can only appear at midnight.

Afterwards, it will be gone.
The Master led Vindictus through the abandoned worn-out factory. The derelict building stood lifeless. Its crumbling chimneys and hanging gutters were clogged with moist, rotting leaves and the walls were pitted, as if they had been gnawed by hundreds of starving rats. Vindictus followed the Master through to the decrepit, ancient office. The Master snatched a worn key from a battered safe. They passed conveyor belts that hadn't been used for a decade or two.

"Argh!" screamed the Master as a nightmare-ish, blood-curdling wail erupted from a larger-than-life bat. Whilst the Master was hyper-ventilating, Vindictus asked, "Is this where you keep him?" pointing to a weather-worn prison cell.

"I'm afraid we had no choice," sighed the Master. "He was
violent to the other boys but he is well fed." The prison cell was dark and dreary. Boxes were scattered around the room. They contained unknown items. Although the entrance was damaged from constant usage, it was still firm. The boy inside was dreary, lonesome and unexcitable. However, there was something intriguing about him.
Our Year 6 Reading workshop
Posted on 30 January 2018 by Mr Roundtree
Thanks to the parents and carers of Year 6 children who came to school yesterday evening for a Reading workshop. We're really pleased to see so many of you taking the time to learn how you can best support your child at home.
Here are two examples of the great feedback we got:
'The evening was very informative. It helped me understand what the reading SATs paper will be like and where I can help my child… Thank you for taking the time to give us an insight…'
'I feel more comfortable with what [my child] is being taught and the support he is being given.'
Read the PowerPoint slides here: part one, part two and part three.
Watch a short video about the Key Stage 2 assessments (SATs) here.
One parent suggested the evening should be scheduled towards the end of the school for Year 5 parents, so they are more prepared for Year 6 from the outset. Thanks for the idea – we think it's a good one and we're going to organise this.
Support with spelling
Posted on 15 January 2018 by Mr Roundtree
Have you checked out out Learn More pages? They contain lots of tips and ideas to support your child at home.
In particular, look at the Help Your Child page. On here, we've just published a new guide to support your child with their spellings – it's full of ideas to learn spellings in an active way. Encourage your child to try out the ideas. They won't all suit, but some may end up being their favourite – and most effective – strategy!
Scholes Pool - one year on...
Posted on 10 January 2018 by Mrs Latham
A year ago today, Save Scholes Pool won £10,000 from the Aviva Community fund to reach the target to start work on the pool. Now the pool is being used by over 130 children from Scholes Primary during the afternoons and a variety of children, including babies, in the mornings, evenings and weekends.
Children in school have made superb progress with the help of our swimming instructor, Nicole. Check out the videos showing children swimming under water and demonstrating excellent breast stroke legs.
Thank you to everyone who contributed to getting the pool back up and running!
Let's Get Active!
Posted on 04 January 2018 by Mrs Latham
As part of our commitment to being a happy and healthy school, we're continually looking at ways to increase the physical activity undertaken within school. The UK Chief Medical Officers found that, "the latest evidence shows there is a clear link between physical activity and chronic disease." We want to reduce this risk by ensuring that our children can achieve the recommended 60 minutes, or more, of physical activity per day. The government wants schools to provide 30 minutes of this.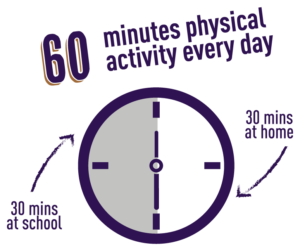 In response to this we have launched the  30:30 Wristband Challenge.
Y1-6 children should have brought a recording sheet home. We'll be taking part in the challenge in school and are encouraging children to continue this at home as well. We already do 10 minutes of Wake Up, Shake Up per day (join in here). We are now striving for 10 minutes of running per day and a further 10 minutes using interactive online resources. The Change for Life website has fun ideas how you can achieve 30 active minutes at home, too.
Thank you from The Donkey Sanctuary
Posted on 02 January 2018 by Miss Hague
Today we received a thank you letter from The Donkey Sanctuary for our donation of £264.20 which we raised at our Christmas productions.
The Donkey Sanctuary is a registered charity which not only offers local children, many with additional needs, the opportunity to interact with the donkeys but also works to protect and rescue neglected animals.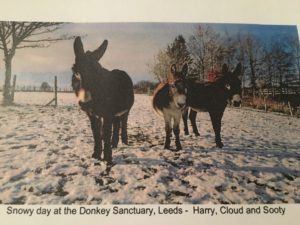 Have a look at their website for more information.
Attendance matters
Posted on 02 January 2018 by Mr Roundtree
Our attendance figures for Autumn are really encouraging – thank you to all the parents and carers who have helped to ensure children are in school as much as possible.
The whole school attendance figure is 97.1%. It's a little lower than for the same period last year (97.4%), and we'll keep an eye on this, but overall, it's good to see the figure remain above 97.0%.
F2M (Miss Eckersley's class): 97.3%
F2L (Mrs Flynn's class): 97.2%
1K (Miss Parling's class): 97.5%
1/2V (Mrs Latham's class): 97.1%
2KL (Miss Lowry's and Mrs Wilkins' class): 97.0%
3/4C (Mr Gathercole's class): 96.1%
3/4E (Mrs McCormick's class): 96.5%
3/4PN (Mrs Allaway's and Miss Lake's class): 97.3%
5/6C (Miss Barrott's class): 97.7%
5/6F (Miss Bainbridge's class): 97.4%
5/6M (Mr Lindsay's class): 96.2%
Well done especially to Class 1K and Class 5/6C, both of which have attendance quite a lot higher than the school average!
Pride and presentation
Posted on 15 December 2017 by Miss Hague
A huge well done to those children who were chosen for our 'Pride and Presentation' award.  Each class selected someone who they felt had either improved or shown consistency in the presentation of their work.
Our winners were Freya, William, Leyla, Seth, Millie, Freddie, Samuel, Charlie and Livdeep. They were each given the opportunity to select a book of their choice, kindly paid for by FOSP.
Well done to you all – we are really proud of you.
Top tips for a stocking filler!
Posted on 12 December 2017 by Miss Hague
Looking for a stocking filler?
Below is a list of the class novels which will be read in school next half-term.  To read before, or alongside, will help your child get the most from these wonderful stories.
Key Stage 1: Animals of Farthing Wood by Colin Dann
Year 3 and 4: Akimbo and the Elephants by Alexander McCall Smith
Year 5 and 6: The Nowhere Emporium by Ross MacKenzie
Fab feedback #2!
Posted on 12 December 2017 by Mr Roundtree
On 07 December, we published some feedback from our School Improvement Advisor. Since then, he has been in school again to review how well we're doing in relation to the recommendations set out in the recent HMI follow-up visit.
We're pleased, once again, with the great feedback we've received…
…discussion with pupils at this visit demonstrated their improved confidence in being able to talk about learning… The differences between the previous visit and now evidenced a remarkable shift in pupil confidence and ability to talk about learning. On this occasion, pupils were clear about the impact of tighter success criteria on their learning. Likewise, they were far more confident in their ability to talk about their responses to marking… and how this embeds learning. The pupils were equally well-informed in their understanding of how teachers are providing them with a series of lessons on the same concept and how this builds a clear learning journey.
…the maths subject leader in attendance at the meeting demonstrated a high degree of comprehension and perception in regard to effective approaches to maths teaching. This expertise and clarity of understanding will stand the school… in good stead for improving pupil mathematical knowledge and understanding.