Well done...
Posted on 22 July 2017 by Mr Roundtree
…to all these children, and one or two others, who have all got 100% attendance this year – that's an amazing achievement!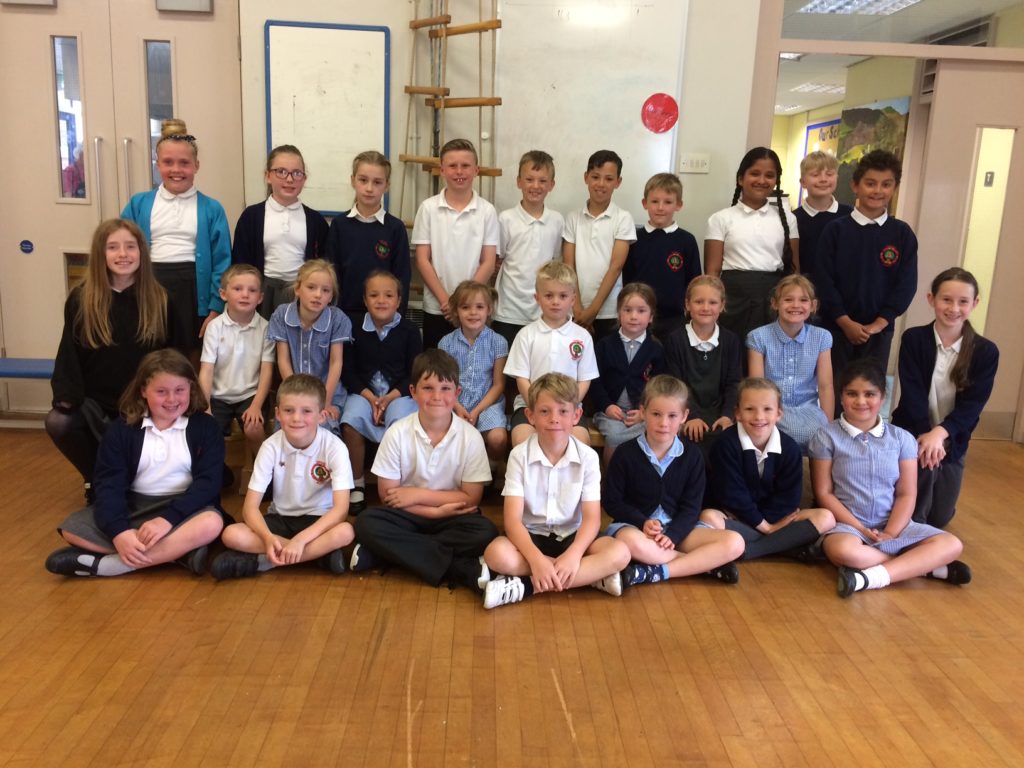 Goodbye...
Posted on 22 July 2017 by Mr Roundtree
…to all our wonderful Year 6 friends. We wish you lots of success and happiness and high school.
We also want to say goodbye to the staff who are leaving us today: Mr Cope and Miss Plienar; Mrs Ramsden (good, again!); and goodbye to these two characters…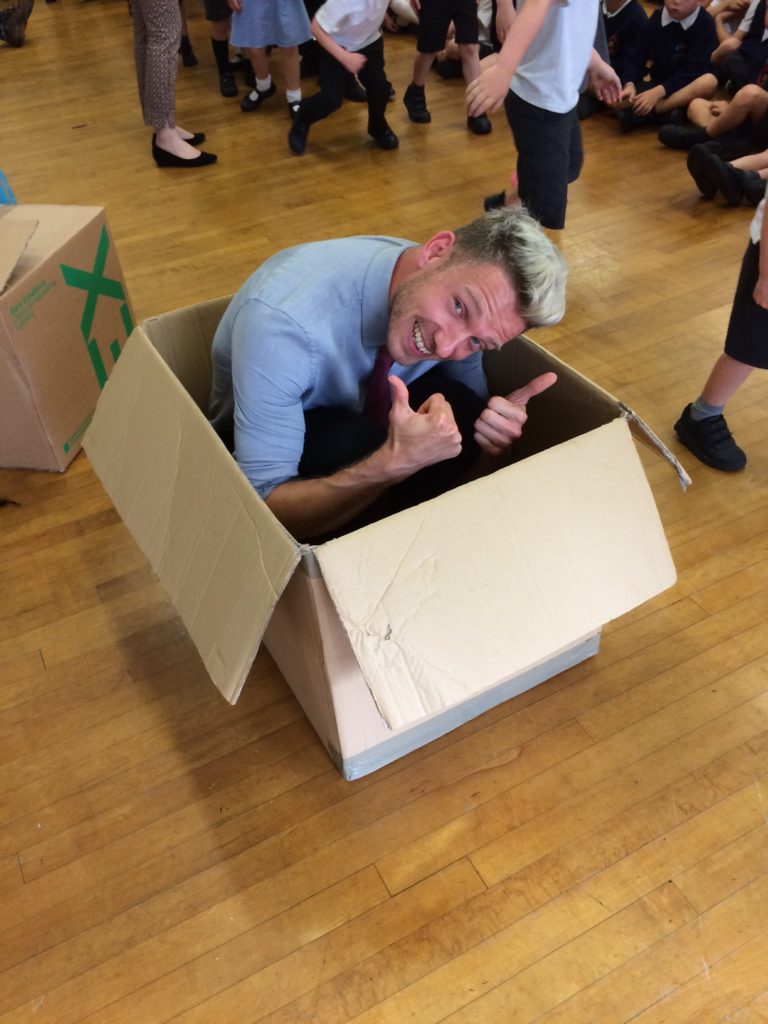 Ask your child why Miss Walker is dressed so bizaarely, and why Mr Mills is feeling somewhat boxed in!
Newsletter feedback
Posted on 18 July 2017 by Mr Roundtree
We recently sent you you a newsletter with your child's class next year, plus various summaries of the changes to uniform, homework etc, plus lots of key dates for the year ahead.
We've had a number of people comment favourably on this end-of-year newsletter. Here's one comment:
I've just read the newsletter 'Next Year's Class'. Just thought I'd say thank you as it's a really well thought out, informative document. It's so useful to have the information on homework and also those dates for the diary early on.

'Talk Time' discussions sound great.

[We] appreciate all the hard work that is happening in school. Hope you all have a great summer.
Fab feedback
Posted on 14 July 2017 by Mr Roundtree
A little while ago, we posted some comments, the views of 'outsiders' – educational advisors, consultants and other Leeds headteachers. Here's an update… Someone has recently visited our school to conduct some pupil interviews, much like what an inspector would do. Here are just a few of extracts from the feedback:
'Without exception, the children proved to be extremely open and articulate.'
'…it was clear that children at Scholes do indeed feel safe within the school environment. The children are trusting of adults in school and know they can approach them with any worries regarding bullying, they are confident such issues, which are infrequent, will be dealt with appropriately.'
'Without exception all the children interviewed enjoyed school.'
Super swimming
Posted on 14 July 2017 by Mr Roundtree
We're looking forward to awarding some superstar swimmers their first swimming certificates next week!
Election of a parent governor - voting now open
Posted on 11 July 2017 by Mrs Quirk
We recently wrote to all parents and carers regarding the Parent Governor vacancy, and to seek nominations.  As the number of nominations received exceeds the number of Parent Governor vacancies, it is now necessary to hold a ballot.
There are seven candidates and you may vote for one candidate only.  The ballot can be accessed via https://goo.gl/LUCBGF
The ballot closes at 12 noon on Tuesday 18 July 2017.
The attached letter provides full details of the voting process and the candidates' statements.
David Roundtree, Head of Federation
EPOSS Summer Programme
Posted on 11 July 2017 by Mrs Quirk
The EPOSS Extended Services summer holiday activity programme still has places available.
There's something for everyone: cooking, multi-sports, snorkelling, lifesaving, water polo, synchronised swimming, athletics, racket sports, Gaelic football, squash, arts and crafts and even a 'Little Mix' party!
Take a look at the EPOSS Extended Services brochure and download a booking form to reserve a place for your child today!
Fab feedback
Posted on 08 July 2017 by Mr Roundtree
Over the last few months, since our Ofsted inspection, we've been working hard to respond to recommendations.
To ensure we're heading in the right direction, we value the views of 'outsiders' – educational advisors, consultants and other Leeds headteachers. Here's a selection of the feedback we've had:
'…the impact of the school's work since the inspection can be readily observed in pupils' books.'
'Senior leaders already have clear and realistic plans to address [any remaining issues].'
'The demand for pupils to apply their reading, writing and maths skills across the curriculum is impressive and can be identified readily in Topic Books.'
'…the frequent opportunity for pupils to complete purposeful extended pieces of writing is to be celebrated.'
'…it became quickly apparent the work in books, aligned to the quality of marking and feedback, supports the quality of teaching and the rates of progress pupils make.'
'As the year has progressed, there is clear evidence of progress from pupils' different starting points in September.'
'The use of a neat, cursive style is becoming consistent and is having a direct impact on high quality presentation in books.'
'…high demand in terms of productivity and presentation are invariably the norm.'
'Presentation throughout all [KS1] books was brilliant and it is clear that children take great pride in their work.'
'Good subject knowledge appear common from year group to year group.'
'School leaders make excellent use of [research] to ensure a range of impactful interventions…'
'Much evidence was produced to show the school is working hard to secure high quality teaching for all pupils.'
'Since the establishment of Sphere Federation… processes are very much in line with what would be considered best practice.'
'[Post-Ofsted] action plans are really detailed – so thorough and clear for everyone involved. The plans must have taken so much time to get right and it is clear that you really know your schools.'
Children's Day 2017
Posted on 08 July 2017 by Mr Roundtree
Children's Day 2017 takes place at Headingley Carnegie Stadium on Sunday 16th July. The gates for the event will open at 10am and close at 4pm; admission is completely free for everyone, as are the activities when inside the ground.
Families attending the event can make a suggested donation of £3 per adult and £1 per child attending on entry; all proceeds will support the work of Leeds Rhinos Foundation and Yorkshire Cricket Foundation.
Supporting your child through a bereavement
Posted on 06 July 2017 by Mr Roundtree
Talking about bereavement with children can be hard. There's a series of books that might help children learn about a number of sensitive issues. One book in the series is Frog and the Birdsong by Max Velthuijs, Andersen Press.
The book concerns Frog, who one autumn day discovers a blackbird lying motionless in the grass. Worried, he asks his friends what can be the matter. Very gently and simply, the animals begin to understand the meaning of death and the beauty of life in this moving story.